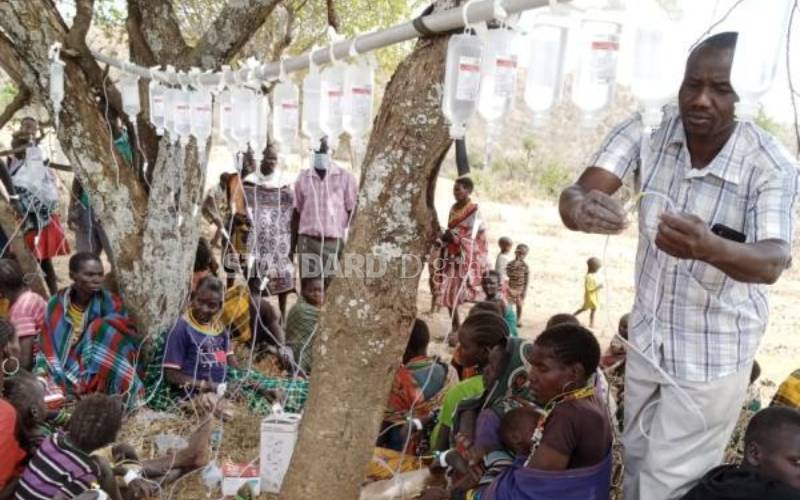 Close to 300 people are admitted to various dispensaries in Pokot North, West Pokot County, after eating meat from a dead camel suspected to have been contaminated.
John Kokwang, the owner of the camel, said it was sick the whole day on Monday before it died in the evening and they slaughtered it.
"The neighbours scrambled for the meat. On Tuesday morning people who had eaten the meat woke up with diarrhoea," Kokwang told The Standard.
Kokwang, his three wives and 19 children are all victims and were still undergoing treatment by yesterday evening.
One of his wives – Chepoisho Akopotum – said she cooked the meat and shared it with her family members.
"I don't know what kind of poison the camel ate. Currently, the situation is bad. We have a number of camels, but only one was sick. The neighbours joined us to get a share of the meat. Some boiled the meat and others roasted it. Anyone who ate the meat was affected," said Akopotum.
She said the whole village got a piece of meat and some carried it home for their families.
Medical personnel from Alale, Nasal and Amukuriat Catholic health centres and Kacheliba Sub-county Hospital have been mobilised to attend to the patients, most of whom were on drip.
Eunice Lorete, a nurse at Alale Dispensary, said most of those affected were put on drip to stabilise their condition.
She said most of the patients were suffering from diarrhoea and vomiting and some complained of body aches. "The whole village feasted on the carcass. Those who are badly affected are the elderly and children," said Lorete.
She said the victims have been flocking to the health centre since Monday after consuming the meat.
Lorete said some had decided to remain at home and not seek treatment, but their situation worsened and nurses were forced to go to the villages to treat them.
"Some failed to seek medical attention, thinking that they would recover. But yesterday close to 70 people had to be put on drip," said Lorete.
According to Nauyapong Assistant Chief Faustino Longora, due to shortage of food in the area, the residents ate the camel carcass without knowing it was poisonous. He said most of those who ate the meat experienced running stomach, fever and body aches. Longora said some victims resorted to herbal medicine instead of going to hospital.
"We have picked some people and taken them to hospital. Some fainted as we rushed them to the dispensary. Even children were affected," he said.