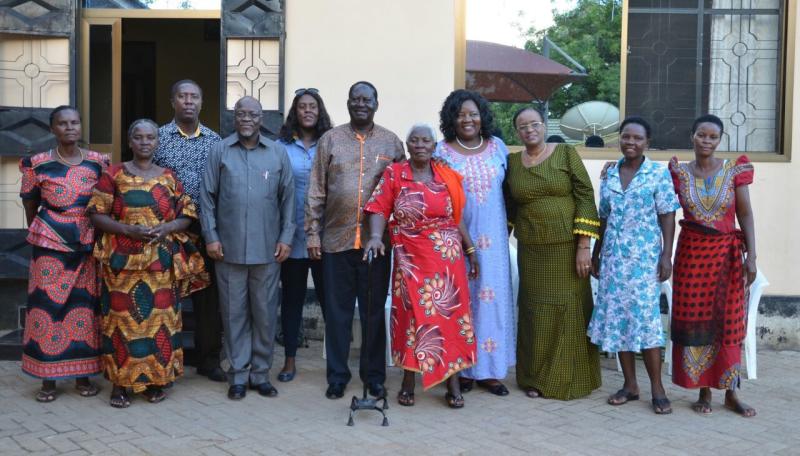 ODM leader Raila Odinga and his wife Ida have mourned President John Pombe Magufuli as a close friend, evoking their long-standing family ties.
Raila said the late president had been by his side at "difficult and painful moments" while disclosing their close working relationship when they both served as Roads ministers for the two neighbouring countries.
Ida revealed they had hosted Magufuli on several occasions at their rural home in Bondo and in Nairobi. The Odingas have also been to Magufuli's rural home in Chato and in Dar es Salaam, confirming the strong ties between the two families.
"President Magufuli and his family have been close friends for a long period of time. He has been by my side at my most difficult and painful moments. Over the years, we have worked together especially in the areas of connecting Eastern Africa by way of infrastructure," said Raila.
In 2012, before he was elected president, Magufuli attended the ODM national convention at Kasarani that endorsed Raila's presidential bid for the 2013 General Election.
Magufuli also attended the burial of Raila's first-born son Fidel Odinga in Bondo in 2015. During the burial, he said he was representing then President Jakaya Kikwete.
Raila would later become the first international guest to visit Magufuli's home after he was elected president in 2015. The former premier, his wife Ida and daughter Winnie visited Magufuli's family at their rural home in Chato in April 2016. Raila again visited the family in January 2019.
Raila served as Roads and Public Works Minister between 2003 and 2005 while Magufuli served in the same position from 2000 to 2015 before being elected president.
In the 2017 polls, the close tie between the two leaders became a source of fears within President Uhuru Kenyatta's Jubilee party after it emerged that the opposition National Super Alliance was planning to set up a parallel tallying centre in the neighbouring country.
"It is with a heavy heart that I write this condolence message on behalf of my family, to Mama Janeth, her children, Bibi Suzana, the entire Magufuli family and the people of Tanzania on the passing of their husband, father and leader," said Ida in a condolence message yesterday.
Raila called for a peaceful and orderly transfer of power in the interest of the people of the country.
His sister Ruth Odinga and elder brother Oburu Oginga took to their Twitter handles and showered Magufuli with lots of praise. Oburu is a member of East African Legislative Assembly.
He said Magufuli's political star in East Africa had started to shine after his re-election and he enjoyed working with his representatives at the regional assembly.
Ruth described Magufuli as an astute politician.