Slain NLC official Wambua was disturbed
Murdered National Land Commission (NLC) staff Jenifer Wambua was caught up in a web of cross-interests involving a corruption case in court, a high stakes succession in her department and job-related stress that weighed her down.
Family members yesterday told the story of a disturbed kin, who felt haunted in her last days, and who had grown paranoid to working at NLC.
Police yesterday combed NLC offices in Upperhill for clues on Wambua's death.
Yesterday was also the day for mention of a multi-million-shilling corruption case, where Wambua was a star witness.
Chief Magistrate Francis Andayi expressed shock at the turn of events and summoned all parties to his court this morning.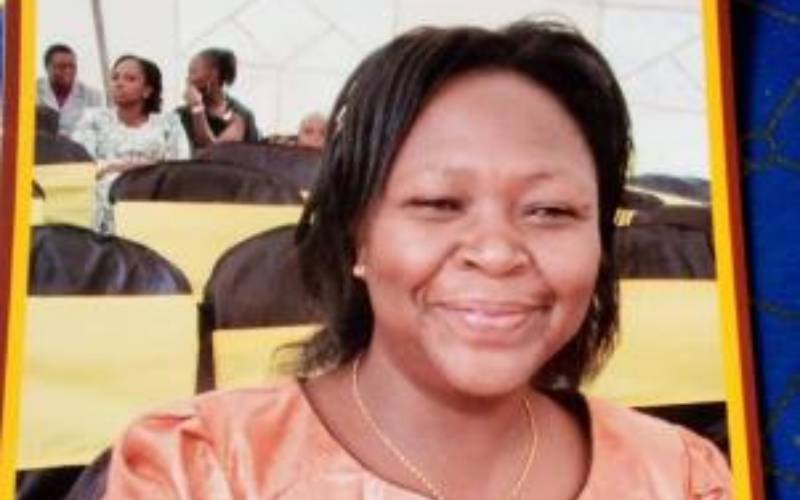 Wambua went missing from her place of work last Friday and her body was later found by herdsman in Ngong Forest.
"In my many years of practice and experience, I have never had such an incident. It is important that the matter be handled in an open court on Thursday morning so that the parties can be heard on the issue of her death," said Mr Andayi. According to lawyer Daniel Maanzo (MP Makueni), Wambua looked quite disturbed in her last days.
Mr Maanzo talked of their last meeting and the fact that there seemed to be something weighing heavily on Wambua's mind. "She said she had cases coming up, where she would be cross-examined, and felt that they (cases) were burdening her," he said.
She wanted to inform him of the matters so he could help her prepare for the court session. But that meeting, as fate would have it, never happened. The only case in public domain is the corruption case.
Her conversation with Maanzo, however, dwelt on cases, not a case.
Since December, Wambua had been acting as the director of communication following the lapse of the term of the previous holder of the officer.
Yesterday, police obtained CCTV footage of last Friday when she was last seen alive at her office.
Besides the footage, police took records of all visitors and activities that Wambua was engaged in before her killing.
The team from Kilimani DCI, headed by Fatuma Hadi, did not however record statements from any staff, including security guards who were on duty on the day Wambua went missing.
Last Friday Wambua's husband Joseph Komu and staff from NLC reviewed the CCTV footage in their initial attempt to retrace the footsteps of then missing woman.
Komu told The Standard that Wambua was alone when she left the building.
Today, detectives from the DCI Homicide section will oversee the postmortem on the body of Wambua.
In the corruption case that came up for mention yesterday, 19 persons including government officials and a politician are facing charges of stealing Sh122,335,500 from the Government Advertising Agency (GAA).
The case was supposed to be virtually mentioned yesterday to fix the next hearing date when Wambua was to be cross-examined, but prosecution notified Andayi of her killing. The case was adjourned.
Wambua had given her evidence-in-chief in February and was supposed to be cross-examined by the defence lawyers on March 1, but she fell sick, prompting adjournment.
During her evidence, Wambua produced several cheques, payment vouchers and invoices allegedly paid from GAA to the companies owned by some of those accused for advertising services, which she said were not approved.
She also presented media booking contracts for the advertising from NLC to GAA, some which she said she authored to book advertising space on behalf of the commission through Sunday Express Limited.
She claimed, in her testimony, that there was no contact between NLC and some of the companies that were awarded the tenders to advertise, and that some of the advertising contents were not authorised by NLC.
Since defence lawyers representing the accused had not had a chance to cross-examine and test the veracity of her evidence, it will be up to the magistrate to decide whether to rely on them when he will be passing the final judgment.
Wambua will be buried next Wednesday at her home near Machakos town.
KCB profit drops to Sh19.6b
The bank also attributed the drop in profitability to subdued economic activity arising from the adverse effects of the pandemic