MPs pay glowing tribute to senator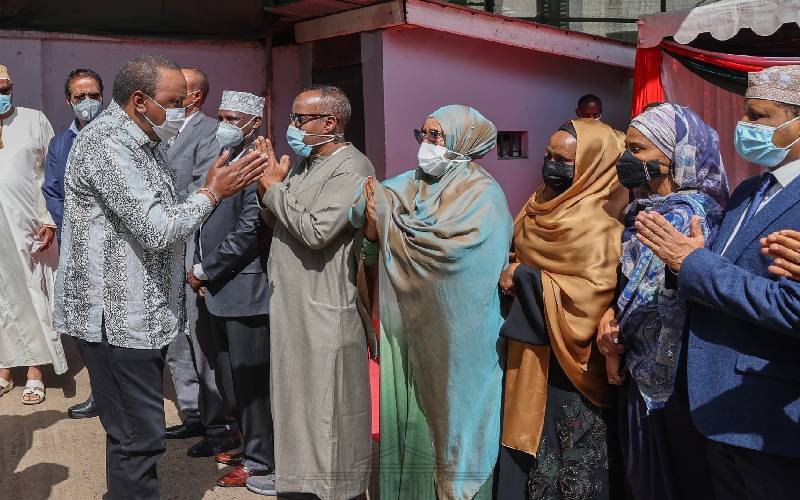 Members of Parliament united in grief yesterday paid tribute to their departed colleague, Garissa Senator Yusuf Haji.
Senators and Members of the National Assembly eulogised Haji as a leader who mentored young leaders and recognised him for his respect for authority.
Speakers Ken Lusaka (Senate) and Justin Muturi (National Assembly) led the Houses in paying tributes to the departed senator.
Mr Lusaka said Haji would be remembered as an icon and steward for peace within the country and across the borders, where he led various peace building processes.
He said the country had lost a humble man, a true patriot, a selfless leader and a statesman.
"In the Senate, the late Haji was a pillar of wisdom. He distinguished himself as a peacemaker and fighter for justice in his capacity as the chair of the Standing Committee on National Security, a position he held from 2013," said Lusaka.
He said the senator was a highly committed leader, citing one of his achievements as leading a delegation of senators to Laikipia, Turkana and Baringo counties in 2015 to address insecurity.
Lusaka recounted that on October 16, 2011, Haji was part of a Kenyan delegation that met with the Transitional Federal Government of Somalia in Mogadishu to discuss security issues and cooperation between Kenya and Somalia against al-Shabaab terrorist group.
"In early June 2012, Haji signed another agreement on behalf of the Government of Kenya, officially reinstalling KDF in Somalia under the AMISOM general command to bring peace in Somalia and neutralise the threat of terrorism," he said.
Mr Muturi also mourned the senator, who he said would be remembered as a statesman.
Security committee
Senator Fatuma Dullo, who served as his vice in the security committee, said the country had lost a leader who had respect for authority.
"In the last Senate, the Security Committee had numerous questions every day, and he told me since I am young, I should handle as vice chair. This gave me a lot of profile," said Dullo.
Minority Leader James Orengo moved a Motion to appreciate Haji for his contribution to public service for years.
Orengo said Haji wanted House Business transacted in an open manner, was forthright, firm and fearless.
"And many times when I said something that he didn't like, he would take it in good spirit across the floor and tell me as much," said Orengo.
"The openness, truthfulness and the dedication of Senator Haji to serve this country, for me, is without example. When he came to Nyanza as a DC, it is because something was going on in that area that other public officials would find difficult to deal with," said Orengo.
Orengo called for the creation of a constituency in Ijara in honour of the departed senator.
Majority Leader Samuel Poghisio seconded the Motion, calling for a special tribute for Haji, who he remembered as being firm and assertive.
He sought to know from the House, as requested by family, if Senator Haji owed anyone.
"In the question of whether he owes me anything... Nothing. I just owe him gratitude," said Mr Poghisio.
"My own father died in the hands of Haji. He (Haji) was invited to a function where he was a chief guest and my dad was the area Member of Parliament. When he (dad) called Haji to speak, he collapsed," recounted Vihiga County senator George Khaniri, adding that Haji took his (Khaniri's) father to Agha Khan Hospital in Kisumu, where he was pronounced dead.
Elgeyo Marakwet Senator Kipchumba Murkomen said Haji had an industrious life.
"The word PC was synonymous with Haji for us who grew up in Rift Valley. I was privileged to have served with Haji in 2013. There was no one more respectful to authority than Haji," recalled Murkomen.
Uasin Gishu Senator Margaret Kamar recounted her unique relations with Haji, especially when she was nominated to represent women from Rift Valley at a conference in Beijing, China, as a young lecturer.
Nominated Senator Sylvia Kasanga said Haji was the epitome of humility.
Legislators in the National Assembly also paid tribute to the senator.
Garissa Town MP Aden Duale said he had lost a mentor. "We lost our father and a mentor. He is the man who introduced me to politics in 2007 despite us being of different political parties. He is one who speaks his mind and stands with the truth," he said.
True nationalist
Ndaragua MP Jeremiah Kioni said he served with Haji in the 10th Parliament and could attest that he was a true nationalist.
"I think it's befitting for us to urge Kenyans to honour him (Haji) by passing the BBI Bill. That's what came to my mind when I learnt about his passing on," said Kioni.
Kanduyi MP Wafula Wamunyinyi said he had the opportunity to know Haji well. "Apart from being a colleague, he was very close to my family. He was a statesman, very patriotic and an advocate of peace in our country. He left a mark in the effort to stabilise Somalia... We have lost a pillar. We wish the family strength during these tough times."
Kuresoi North MP Moses Kipkemboi said Haji was a gentleman and a father figure.
"He was one of the most religious leaders, as he had a mosque in his own house," he said.
Nominated MP Wilson Sossion described the senator as an outstanding statesman.
"His work and input in education is unmatched. He was so concerned about education and always engaged me very strongly in terms of teacher welfare and deployment of teachers in Northern Kenya."