Homa Bay youth warned against engaging in political chaos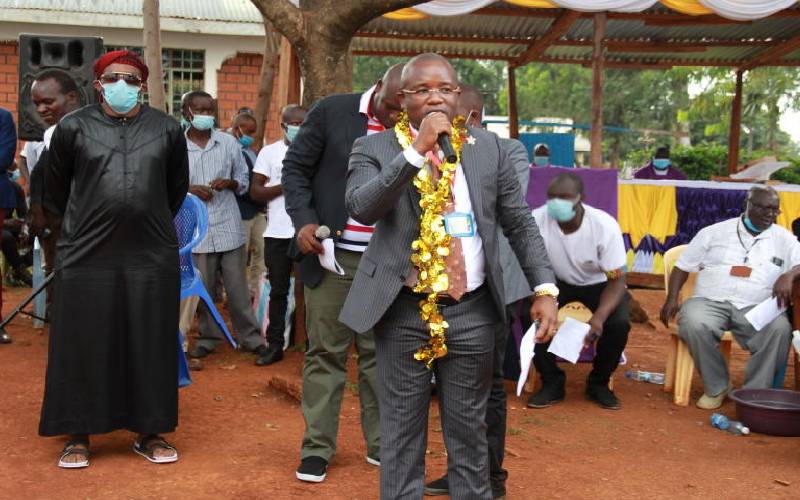 A section of politicians in Homa Bay County has warned youth from the county to desist from taking part in chaos ahead of the 2022 General Election.
Led by businessman Jared Otieno and director of President's Delivery Unit Silvance Osele, the leaders warned the youth against allowing themselves to be used as tools for causing violence.
Speaking at Ringa Catholic Church in Kabondo Kasipul Constituency on Sunday where he helped to raise more than Sh4.7 million for the construction of the church, Otieno said the youth who accept to be used as tools for violence will ruin their lives.
"The moment you allow people to use you in hurling insults and throwing stones at others, know that you are destroying your life," said Otieno.
He argued that the violence misbehaviour will work against youth who aspire to run for elective positions.
"The society will harshly judge us if the youth allow politicians to hire them for causing chaos," Otieno said.
He urged aspirants eyeing various elective seats to give elected leaders conducive environment to serve the people so that they don't have excuses in 2022.
Otieno's remarks come following various incidents in which the youth have been used to carry out a smear campaign against other politicians on social media and public gatherings in the county.
Osele on his side challenged elected leaders to be accountable to the electorate.
He argued that there were cases where some elected leaders had abandoned the electorate, a situation which impedes service delivery to the people.
"Let any leader who was elected by the people serve the people who elected them to enable us to have a better Kenya," said Osele.
The leaders urged residents to support the Building Bridges Initiative report, saying it will address many issues which have impeded economic development of this country.