Inside secret coup attempt that killed 240 in city crossfire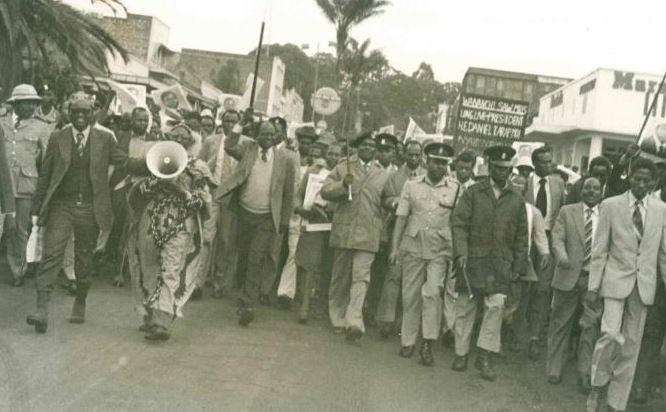 The military has never been short of men with unimaginable ambition and ego. When one day Senior Sergeant Pancras Oteyo Akumu walked into Senior Private Hezekiah Ochuka's office and saw the words 'The Next President of Kenya' carved out untidily on his desk, he knew Ochuka would be the man for the job he had at hand.
And so he set in motion a plan that was to end in the death of 240 people in a bloody standoff on August 1, 1982, which is recorded as Kenya's second failed coup attempt.
As early as May 1982, the intelligence community had already received reports that Kenya Air Force personnel were planning a coup. This is first time these reports reached Special Branch officers, famed for having their ears always on the ground.
There were murmurs in Laikipia Airbase that soon spread to Moi Airbase in Nairobi. It is in these two bases that the ring leaders were located.
In Nanyuki, the ringleaders of the coup were Lieutenant Leslie Kombo Mwamburi and Senior Sergeant Pancras Oteyo Okumu. In Nairobi, the masterminds was Senior Private Hezekiah Ochuka.
The plot was simple. Get support from all military arms of the country. Wait for the president to leave the country on official duty and take over the running of the republic.
The coup was set for August 3 when the then President Daniel arap Moi was to be away for the Organisation of African Unity meeting in Tripoli, Libya.
Abrupt change
But things changed. President Moi, like many other African heads of state, boycotted the summit over a number of key issues.
"Among them was Libya's 1980 military intervention in Chad," longtime intelligence officer Bart Joseph Kibati writes in his book Memoirs of a Kenyan Spymaster. There was a plot twist though. A lack of quorum meant the OAU meeting would not proceed. This presented a headache for the coup plotters.
On Friday, July 30, Kibati, who was by then a senior intelligence officer led a team of officers to Nanyuki on the strength of the information that informers had passed on to them. Their brief was simple. Identify themselves to the generals in charge of the barracks, pull rank and ask for permission to arrest the coup plotters.
As far as they were concerned, communication had already been sent ahead of them from their seniors. It looked like a simple matter of executing agreed upon orders. But on reaching Nanyuki, things didn't go according to plan.
Initial plot
Sometimes in March, 1982, a small yet subversive group of airmen at the Kenya Air Force Base, Nanyuki, started to plot to overthrow the Kenya government. Between March, 1982, and August 1, 1982, the group expanded rapidly in membership due to a spirited recruitment drive in every unit of the Kenya Air Force as well as in other units of the Kenya Army.
In due course, Superintendent Ochuka of the Kenya Air Force Eastleigh emerged as the leader of that group which was known as the People's Redemption Council.
The sole objective of this group, court documents read, was to overthrow the Kenya government by force of arms.
"In order to achieve this objective, Ochuka and other senior Air Force officers who were members of this group made several journeys up and down the country to various places looking for financial and material support, recruiting new members into the group, attending briefings and meetings at various places and administering oaths to the new recruits, thus binding them not to leak out the existence of the group to authorities and not to pull out of it," read the court records.
A month before the Nanyuki visit by Kibati and his team, a house in Umoja was playing host to key discussions that those present were certain would lead to a successful overthrow of the sitting government. At first glance, it looked like a few men letting off steam on a game of cards. But the conversations that accompanied every card throw were telling.
Discussions on that Sunday of May 4 were calm and collected. Voices were in near whisper since it had already been established that traitors walked among the plotters and there were valid fears that their seniors within the Air Force might have gotten wind of their plot.
A key suspect to leaking out information was one Captain Pala. The Umoja meeting immediately decided to keep him off any subsequent discussions about the coup. A list of possible supporters was agreed on.
It was agreed that 81 tank battalion in Lanet be contacted. The purpose of this was for the battalion to take over Nakuru as soon as they received orders from the rougue officers on the day of the coup.
Although the plotters held firm to their ideals, they were getting trouble recruiting enough numbers for their cause. Also, the barracks had proven treacherous grounds for recruitment, so on July 17, Ochuka settled on another approach.
He would trail potential recruits to their favourite bars, throw a couple of rounds and when confident that they were ready to receive their message, bring up the coup business. His whirlwind recruitment spree started at Salwe Bar and Restaurant where he managed to convince three superintendents to join his cause.
He then moved up a notch and led them to Shirikisho Lodging where he administered an oath of secrecy and commitment.
With just days to the coup, Ochuka left Nakuru confident that he had gained some allies. All he needed were a few good men and Kenya would be liberated. All he could do now was wait for the perfect moment to strike.
There was one problem though. The intelligence services were on to him. He knew it too. Now, it was just a matter of who would outsmart the other. And just as Kibati had intelligence on the plotters, they too had intelligence on him.
Ochuka had come to learn of the plan to arrest the plotters and as a result, he and the other planners decided to move the coup from August 3 to August 1.
When Kibati got to the gates of Laikipia Airbase on the outskirts of Nanyuki town, he was confident that he and his team would be received well simply because they came in good faith to prevent what could potentially be an embarrassing situation to the Air Force. The intelligence men got to the barracks gates at 10am on July 30.
"We met Lt Col. Peter Kagume… we briefed him on our mission but he expressed ignorance of any planned coup. He told us to come back later after he had consulted," Kibati writes in his book.
The team left and returned to the barracks at midday only to be met by a near hostile colonel.
"He told us 'you boys have to go back where you came from. These are our boys. We shall handle them," Kibati says.
The intelligence men set off for Nairobi, their mission aborted, leaving behind a series of ticking time bombs, with the first going off at about 2am on August 1.
At about 2am, Sergeant Martin Japheth Barasa, then working in the motor transport section at Embakasi Air Base, was awakened by gun-shots. He dressed up and went outside his room to ascertain what was happening.
Outside he was confronted by a serviceman who he later knew to be one Robert Odhiambo. Odhiambo was armed with an SMG gun and ordered Barasa to get ignition keys of one Landrover. Barasa, unaware of what was going on, obeyed the order, which extended to driving Odhiambo around the streets of Nairobi where it became apparent there was a mutiny taking place.
Stormed into the newsroom
At 2:30am, several individuals dressed in Air Force uniforms stormed into the Voice of Kenya newsroom and ordered the witness and his co-employees to raise their hands. The intruders, led by Senior Sergeant Akumu, then proceeded to make arrangements to broadcast the intended overthrow of the government.
In a matter of hours, the plot started to unravel. At 9:30am, fearing that the coup might be losing the support of the public due to limited broadcasts from the VoK studos, Akumu commandeered an army Land Rover and headed to VoK. As soon as he was in the viscinity of the gates, the vehicle was hit by gunfire.
In a hail of gunfire, Akumu left for KAF Eastleigh Air Base, where he believed he would be safe. He was soon joined by Ochuka. The two men then decided to order for reinforcements.
"We should get some aircraft from Nanyuki to come and over fly Nairobi area and if possible to bomb VoK, State House and Army headquarters," Ochuka told the still stunned Akumu. They radioed Nanyuki. And soon enough, some aircraft overflew the city from Nanyuki KAF.
This was followed by more frantic calls by Ochuka. He wanted certain strategic places bombed. The VoK, State House, Army headquarters, Langata Barracks, The General Service Unit headquarters were all top on his list.
By midday the truth finally dawned on the plotters. There were no bombings. There was to be no reinforcement. The coup had failed. There was to be only one way out.
In desperation, Ochuka and Akumu ran to the Air Base hangars and hijacked a Buffalo Aircraft. They were airmen. They could not risk an escape by road. They knew they were wanted men whose chase would only result in one ending.
They looked the soldiers around them and settled on Major William Jack Marende and Lieutenant Colonel Leshan. The order was simple. The two men were to fly Ochuka and Akumu to Tanzania.
A court process that started on August 19 granted the two men asylum in Tanzania. But their joy was short-lived. They were brought back to the country via Namanga border on November 11, 1983.
In just over a year, the two men, and others had moved from respectable air force men to individuals wanted for treason.