Promoting sustainable peace during the pandemic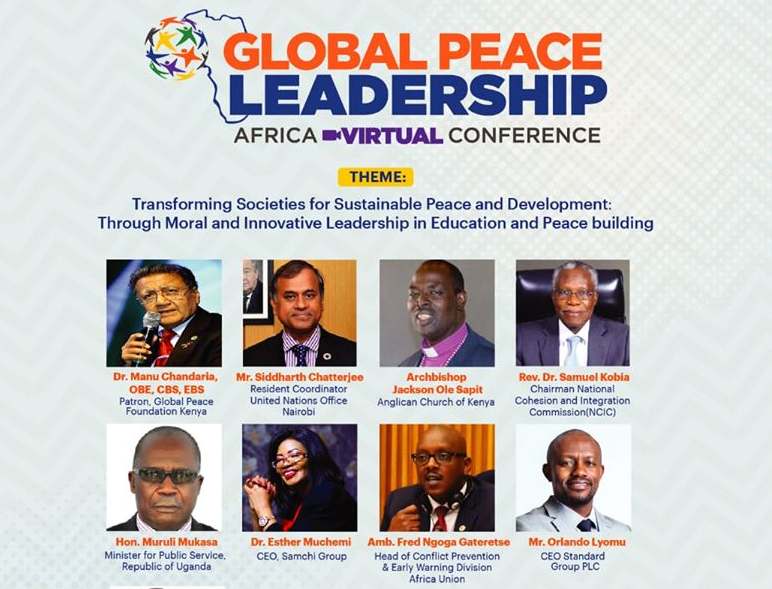 A two day virtual conference that will discuss solutions for transforming education and promoting sustainable peace during the coronavirus pandemic and to begin preparing for recovery is set to begin tomorrow.
The conference under the theme "Transforming Societies for Sustainable Peace and Development: Through Moral and Innovative Leadership in Education and Peace building" will bring over 1,000 multi-sector participants to discuss the key issues.
Global Peace Foundation in partnership with Standard Media Group and National Cohesion and Integration Commission (NCIC) being the key drivers of the conference will oversee over 56 speakers and thought leaders representing the public, private and civil society sectors add their input into the discussion.
These include peace practitioners and experts, educators, religious leaders, governmental stakeholders, NGOs, school administrators, and media representatives from Kenya, Uganda, Tanzania, Nigeria, African, India, USA, UK, European Union, and other countries.
The conference will commence with a High Level Opening Plenary that will be broadcasted via KTN News Kenya, Clouds TV Tanzania and on Youtube and Facebook channels.
The Opening planary will feature Cabinet Secretary for Devolution and ASAL Eugene Wamalwa, Global Peace Foundation patron and Industrialist Dr. Manu Chandaria, Ugandan Minister for Public Service Muruli Mukasa, the UN Kenya Resident Coordinator Sid Chatterjee, Archbishop Jackson Ole Sapit from the Anglican Church of Kenya, Ambassador Fred Ngoga Gatereste from the African Union, the Chairman of NCIC Rev. Dr. Samuel Kobia and the CEO of the Standard Group PLC Orlando Lyomu.
The first global peace leadership conference was convened in Zanzibar 2015 and has since marked 11 years since the establishment in Kenya marking remarkable successes like the Turkana-Pokot-Karamoja peace talks that led to the signing of the Kenya-Uganda cross border initiative in September 2019 witnessed by President Uhuru Kenyatta and President Yoweri Museveni.
To participate register in advance for the conference through this link: https://www.globalpeace.org/event/global-peace-leadership-africa-virtual-conference-2020