Truck drivers weak link as Covid-19 numbers surge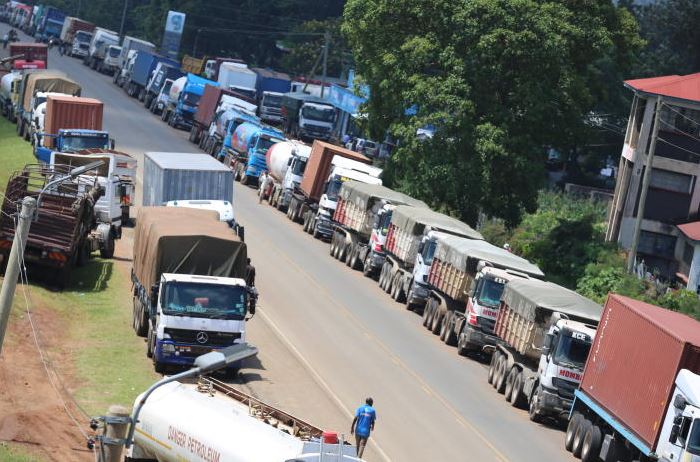 The spread of Covid-19 among truck drivers is raising concern among health authorities, with almost 100 of them testing positive for the disease in less than a week.
Truck drivers who operate from Mombasa through the major towns on the highway and the border points with Uganda have been identified as super-spreaders of the virus.
Of all the border counties, Busia is the most affected, reporting 61 cases in three days. The county borders Uganda in Malaba.
By yesterday, Busia had reported 178 cases of Covid-19 positive truckers, according to the county's head of coronavirus response team, David Mukabi.
The other counties where truck drivers have been found positive are Uasin Gishu, Kajiado, and Taita Taveta.
On Friday, Taita Taveta reported four cases of coronavirus-positive truck drivers while Uasin Gishu reported one case in Turbo.
Uasin Gishu recorded 12 cases on June 3 while Kajiado County had three - all truck drivers.
These high numbers are despite tough measures issued by the Ministry of Health that not only dictate when and how often the drivers should be tested, but also gives them designated stopovers on the Northern Corridor.
Spread of the disease among truck drivers seems to have taken the government back to the drawing board as Health Cabinet Secretary Mutahi Kagwe laid bare the tricks some of them use to evade being tested and detected.
"In the last few weeks, we have witnessed a large number of truck drivers testing positive. Let me make it clear that all truck drivers must take a Covid-19 test, at least 48 hours before embarking on their journey and acquire a Coivid-19 free certificate," he warned.
Truckers have devised ways of circumventing checkpoints undetected.
One of the tricks is using a trucker who has been tested and issued with a certificate to collect the cargo from Mombasa port for a colleague who has not been tested.
Mr Kagwe said others forge the certificate without realising there are only selected facilities that can test for Covid-19.
"A certificate can only be issued by a World Health Organisation accredited laboratory," he said.
Kenya has 22 of such laboratories. Two of these were donated by the German government as mobile laboratories specifically to assist in testing of truck drivers and are stationed in Busia and Maai Mahiu in Nakuru County.
The two are in addition to 13 others that were selected to fast-track the testing of drivers.
They are in Mombasa (Miritini), Nairobi (South B), Kisumu (Ahero sub-county hospital), Migori (Migori County Hospital), Eldoret, Nakuru (Nakuru Provincial Hospital and Naivasha), Kilifi (Kilifi Medical and Training College), Machakos, Marsabit and Kwale (Kwale sub-county hospital, Kinango and Msambweni).
The designated stops are in Busia, Gilgil, Taveta, Namanga, Mlolongo, Malaba and Webuye. The latter town has a stopover but no contracted hotel, which means no sleepovers at this point.
The stopovers have selected hotels that act as quarantine facilities where truckers can stay while waiting for their results, which takes up to 24 hours. It is also to avoid truck drivers interacting with local communities.
The country has also been grappling with truckers from other countries. In recent past, several truck drivers from other countries have been tested and those who turned positive returned at the borders.
A week after the mandatory testing protocol for truck drivers was introduced, about 100 truck drivers from Tanzania have tested positive.
The drivers sought to get into the country through Namanga, Lunga Lunga, and Isebania border points in Kajiado, Taita Taveta and Migori counties, respectively.
In Turkana County, up to seven cases of the disease have been confirmed. Six of those cases were truck drivers who were tested at Nadapal border point.
Health Chief Administrative Secretary Rashid Aman said a huge portion of those who tested positive were truck drivers who had travelled within the East African economic bloc.
Busia and Malaba border posts serve as a gateway to other East African countries and have also recorded a number of cases.
Dr Mukabi, who is in-charge of the fight against coronavirus in Busia County, told The Standard most of the drivers arrive in Busia without Covid-19 certificates.
Mukabi echoed county commissioner Joseph Kanyiri's sentiments that they may have to force drivers who arrive in Busia and Malaba without certificates into quarantine.
Busia Governor Sospeter Ojaamong has lamented that both county's human and financial resources have been stretched due to the large number of cases Alupe isolation centre is hosting currently.
On the Nairobi-Mombasa highway, one can hardly miss hawkers hanging on vehicles, persuading truck drivers to buy their goods.
This business is common in towns on Makueni stretch such as Malili, Salama, Sultan Hamud, Emali, Simba, and Makindu, where many traders remain oblivious of containment measures like sanitising and social distancing.
"We sell to long-distant drivers. They can take your fruits, check and return to you when they feel it is not what they wanted," said Ruth Mbithe, a hawker.
[By Graham Kajilwa, Lucas Ngasike, Ignatius Odanga and Stephen Nzioka]