Nyeri Deputy Governor Karugu distances herself from viral billboard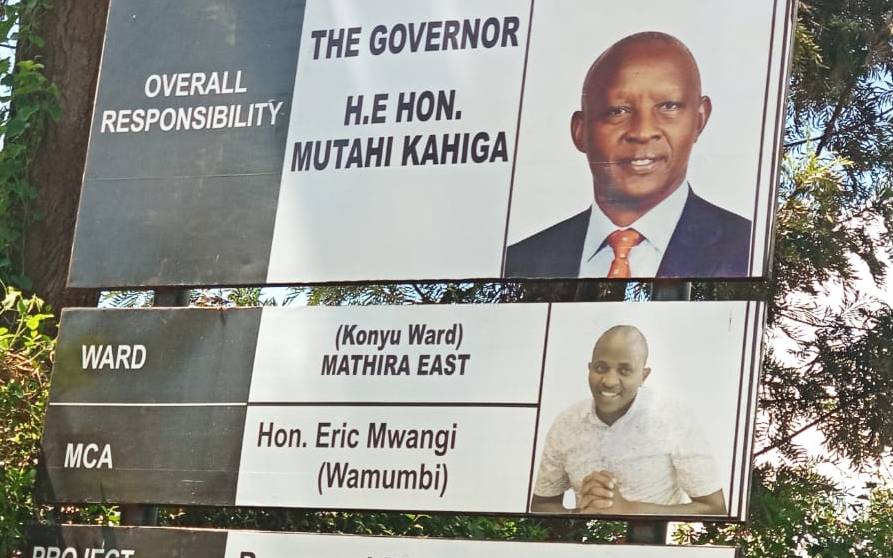 Nyeri Deputy Governor Caroline Karugu has disassociated herself from a pit latrine project in the county that has created an online frenzy.
The project in Konyu Ward, in Mathira, has been a subject of ridicule with locals and other Kenyans raising issues about large signage with the portraits of Governor Mutahi Kahiga and area MCA Eric Wamumbi.
Some have questioned the rationale behind the erecting such a big billboard to take credit for the construction of a latrine at Kahara ECD Centre.
"I wish to dissociate from these persistent cheap publicity stunts and I consider them extremely unfortunate and ill-advised," said Karugu.
The latrine project has been a subject of intense online debate with most commentators castigating the governor and MCA for using the portraits in a public-funded project.
Locals who reacted to the project termed it a waste of public resources by the county government.
"The money could be channelled to repairing ECD centres or rural roads. No one cares about how a billboard but we would want to see impacting projects, " said Joan Kameri.
John Karibe , a Facebook user said, "This is an insult to the citizens of Nyeri County... In fact, this project was supposed to be allocated to youth and people with disabilities to do it."
"Billboard for a pit latrine?? What a shame. I'm sure thousands of taxpayers' money have been misused in this petty and old-fashioned project. It is okay the project will benefit the intended group but is unworthy for this publicity." said Charles Ndegwa.
Locals also took issue with the standard of the latrine saying that it's narrowly constructed adding that the board could cost so much money more than the latrine.
"This is the biggest public duping scam of all time. Don't be surprised to realise the billboard cost more than the pit latrine," Willy Ndungu wrote on Facebook.
However, Chinga Ward rep Kiruga Thuku defended the erection of project signage across the county saying that it was meant to tame unscrupulous contractors who misused public funds in the previous regimes.
"After a meeting between all MCAs and officials from the department of infrastructure, we agreed that contractors will be putting images of the governor and local MCA where the project is being implemented at no extra cost," said Thuku.
"The logic behind this is simply to ensure the projects meet required standards. No one would want their photo appear on board with shoddy job done. The MCA bear the responsibility of the project, " said the MCA adding that the tactic has seen proper workmanship hence proper use of public funds.
The online backlash comes barely a month after the governor faced a branding storm for branding sanitisers donated by well-wishers.
Kahiga was blamed for using Sh100, 000 to pit his image on sanitizer containers that were distributed to Nyeri residents.