Coronavirus pandemic reduces number of road accidents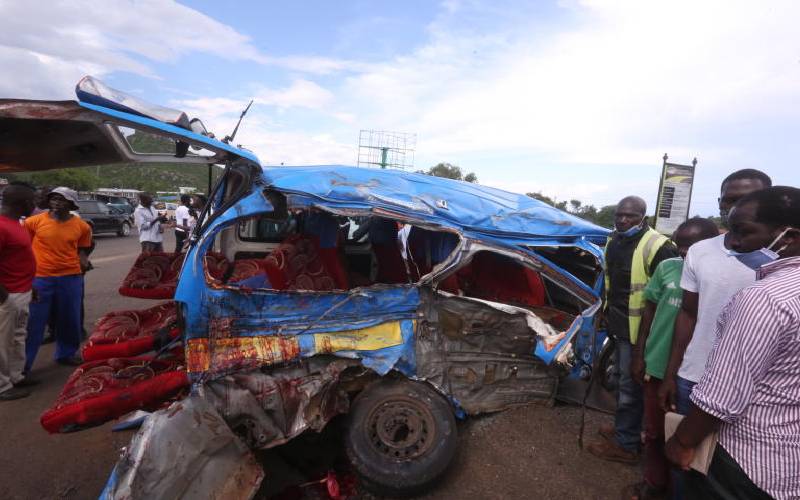 The number of passengers killed in road accidents between January and April this year has reduced slightly compared to the same period last year.
According to the latest Crash Survey by the National Transport and Safety Authority (NTSA), 1,022 people died between January and April as compared to 1,058 in the same period last year.
Of those who have died since January, 390 were pedestrians, 86 drivers, 159 passengers, 107 were pillion passengers and 262 were motorcyclists.
Majority of the victims were pedestrians. Up to 401 pedestrians had died in the same period in 2019, 107 drivers, 221 passengers, 103 pillion passengers and 204 motorcyclists.
In the same period under review, some 1,844 people were seriously injured last year as compared to 2,151 of this year, while 1,636 have been slightly injured since January as compare to 1,363 of last year.
Private cars led in causing accidents, followed by commercial ones, then motorcycles, public service vehicles, then government vehicles and tuktuk.
This is the period when movement to and out of Nairobi, Mombasa, Kwale and Kilifi were frozen over the pandemic and many expected the incidents to drastically drop.
Interior Cabinet Secretary Fred Matiang'i said the figures were not as low as expected, considering the campaigns mounted to address the same.
"The economic cost of road crashes is three to five per cent of our GDP or Sh300 billion annually," he said.
He added that road carnage was the highest contributor to disability in Kenya, health burdens and poverty through loss of able bodied bread winners.
3,000 die annually
An estimated 3,000 deaths from road accidents occur annually in Kenya and about 40 per cent of the victims are pedestrians.
A study by NTSA has shown most accidents happen on Sundays and Saturdays, followed by Fridays, Mondays, Wednesdays, Tuesdays and very few on Thursdays.
Nairobi, Kiambu, Machakos, Nakuru, Kakamega, Makueni and Murang'a lead in number of accidents, while Migori, Baringo, TaitaTaveta, Uasin Gishu, Bomet and Homabay had least accidents in periods under study.
Most victims who died this year were aged between 30 and 34, 25 and 29, 35 and 39, 20 to 24 and 40 to 44. The least affected age group is 70 and above and zero to four years.
The survey indicated that 69 per cent of accidents occurred between 5pm and 7:59am, while 31 per cent of the accidents occurred during the day.
The authority argued that majority of the causes of road crashes were related to road user behavior, which contributes to 98 per cent of the causes.
Other factors involve motor vehicle-related issues, which show approximately 160,000 vehicles currently are not roadworthy, with majority having expired inspection documents.
Hit-and-run have caused 925 deaths this year, losing control 415, overtaking improperly 225 and misjudging clearance 140. Speeding caused 120 deaths while brake failure caused 22 deaths.
"There are numerous black spots emanating from poor road designs, lack of signage, road markings, road lighting, and lack of non-motorised transport facilities," indicated the agency's report.