Floods kill 16 as more families are displaced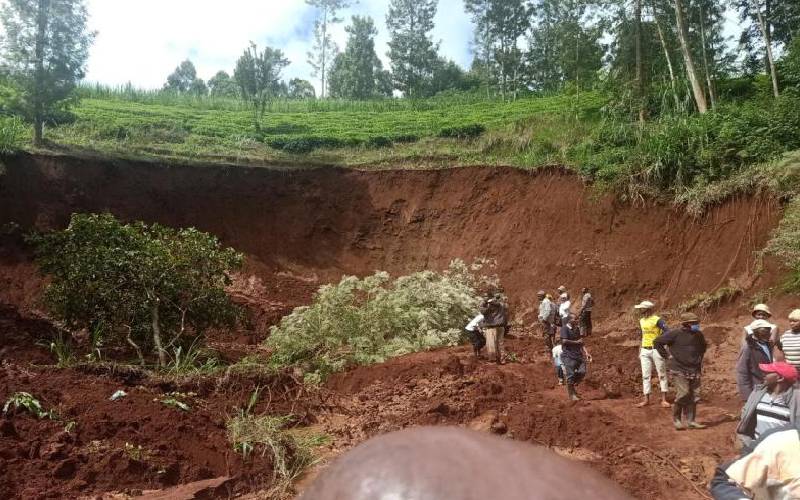 Sixteen people died after being swept away by floodwaters while over 1,500 families have been displaced following heavy rains pounding the Central region.
Kenya Red Cross Society regional manager Gitonga Mugambi said seven bodies have been recovered.
Mr Gitonga said over 400 families had been displaced in Kirinyaga County, over 500 in Laikipia, over 700 in Murang'a, over 400 in Kiambu, and over 120 in Nyeri following the downpour.
More than 500 tea bushes and 200 coffee stems were damaged and buried by a landslide that ripped some parts of Ndia Constituency in Kirinyaga County.
Kiini location chief Munene Githinji said the cash crops were damaged in Thuguri and Nguguini areas, which experienced their first landslide in recent times.
Mr Githinji urged the residents to move to higher grounds, adding that relevant government agencies had been contacted to repair the damaged infrastructure such as roads.
On Sunday, a woman escaped death narrowly after a landslide swept part of her homestead in the Nguguini area.
Landslide
The 2am landslide was the first to be recorded in the area and residents now live in fear as rains continue to pound the area.
A road leading to the village was buried by soil, cutting off the area.
Over 46 families in Ngando, Fisheries and Sagana, have been forced to abandon their submerged houses after Sagana river burst its banks.
Meanwhile, the Water Resources Authority (WRA) has reported high volumes of water in the main rivers in the region.
Recordings at various WRA monitoring stations showed Chania at Blue Post Bridge was flowing at a depth of 1.80 metres while Mataara Bridge was submerged at over three metres. Karemenu river at Mataara Bridge was at 1.56 metres under the water.
The Thika river at Yatta Furrow intake was at a depth of 2.68 metres while River Sagana at Marua Bridge recorded a depth of 1.80 metres and 1.1 metres at Kiganjo Bridge.
Although the rivers are located on deep ridges, a WRA official said the readings indicate a consistently high flow of water that is indicative of resultant effects such as submerging of river bank farms and landslides on slopy areas characterised by shallow rooted crops such as tea and coffee.
In Naivasha, tens of flower farms have been flooded following a sharp rise in Lake Naivasha's water level.
Green houses with flowers worth millions of shillings have been submerged in water, with many fearing the damage could rise further as the lake's water levels continue to rise.
Workers sent home
Already, the farms have recorded losses worth millions of shillings and sent their workforce home due to Covid-19 that has seen the European market collapse.
Also affected by the rise in the water levels around the lake are hotels, small-scale farmers and residents of two informal settlements.
Water Resources Authority's Naivasha sub-regional manager Geoffrey Mworia termed the current occurrence as normal, saying that the "lake was claiming its territory".
[Joseph Muchiri, Boniface Gikandi, Antony Gitonga]