Food crisis looms as maize to last for two months only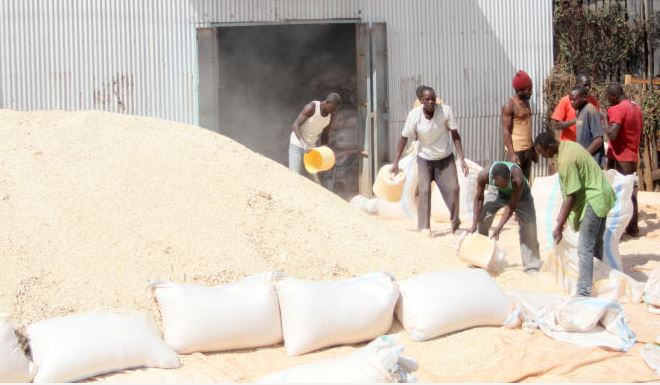 Kenyans could move from the current coronavirus pandemic into a food crisis if the current maize stocks sufficient for only two months, are not enhanced.
According to investigations by the Sunday Standard, the country's stock could run out by end of May given that majority of Kenyans are at home and consuming more food.
Last year, Kenya had a production of 43 million bags of maize during the long and short rains, which according to experts is one of the highest harvests, the best in the recent past.
Situation complicated
Given the per capita consumption of 100 kilos per person per year according to the Kenya National Bureau of Statistics (KNBS), the country requires about 51 million bags to be food sufficient. This means there was a shortfall of 8 million bags.
The deficit could begin from May when maize from the short rain begins to diminish, setting in a period of shortage.
Maize is a staple crop for the country and according to Tegemeo Institute, there has been an average production of 40 million bags in the last five years against an estimated demand of 51 million bags annually. The KNBS recent census report indicated the country had a population of 49 million people and with a 100 kilos per capita, meaning Kenyans consume over 49 million bags a year.
This is only maize consumption for food only, meaning if all the maize produced went to food use, the country would still need to import.
The Tegemeo Institute said the situation is further complicated given the need for maize for other uses including industrial manufacturing, seed and animal feed, which account for two, one and two per cent respectively.
Grant Brooke, a former researcher in Kenya and founder Twiga, argued that if no action is taken, the country could easily see the current health crisis turn into a food security crisis, and put at risk far more lives than the disease itself.
"Goals here should be to craft a policy that does not handicap food access," said Brooke.
The possible food situation could be complicated by restricted movement of people and goods across the globe that could hinder supply of imported maize on time.
In the past, millers have imported maize from Brazil, Mexico and South African countries of Malawi and Zambia.
However, given the lockdown being experienced by most of these countries, some could limit the amount of food they would like to import.
If the government does not open up the importation process early enough, the situation could spiral into a crisis soon.
According to a report dubbed 'Estimated Maize', production for March 2020, the monthly consumption is 4.25 million bags while total local production is 43.3 million bags.
Continuous regime
The document notes that added to the Strategic Food Reserves stocks of 2.1 million imports, the stock lasts about 11 months and there is therefore a shortfall of about one month that would met from imports.
"Imports from the East African Cooperation regions have been generally low. More imports are expected between now and July when harvesting commences," read part of the internal document.
But, Famine Early Warning Systems Network (FEWS NET) in their February report observed that the delayed unimodal maize harvest, and tight regional supply are driving high maize prices in most urban and rural key reference markets.
Although FEWS NET cross-border monitoring data indicate maize imports into Kenya during the fourth quarter of 2019 accounted for 12 per cent of total regional imports, imports have not filled the national cereal gap.
And the National Drought Management Authority (NDMA) price data in February showed that the retail price of maize was 14-33 per cent above the five-year average in most reference markets.
Maize miller's chairperson, Mohamed Islam said though there was no cause for alarm, there was need to ensure the situation is well handled now that the country and the world is going through a pandemic.
"The food is coming but we need to monitor the situation well to avoid a crisis," said Islam.
A senior government official at the Ministry of Agriculture who sought anonymity said the ministry was likely to open importation of maize from May to bridge the deficit.
The plate
"There is a continuous regime for importation of rice and wheat, but maize is a very political food stuff, but its importation will likely be announced in May, to bridge expected deficit," he said.
He said Kenya imported 70 per cent of its rice and 8,000 metric tonnes of wheat to augment the 3,000 metric tonnes produced locally.
"Most Kenyans have rice and wheat in their plates everyday and this had created a big demand, although maize remains the staple food," he said.
Kenya Farmers Association director Kipkorir Menjo said there was a serious problem given the National Cereals and Produce Board released all the maize in their stores last year and had not bought more to replenish stock.
"We are asking them to mop up maize from farmers at market price so that they can only import when they have closed that window," said Menjo.