Keep safe from the Coronavirus, be in the know with Standard Digital E-paper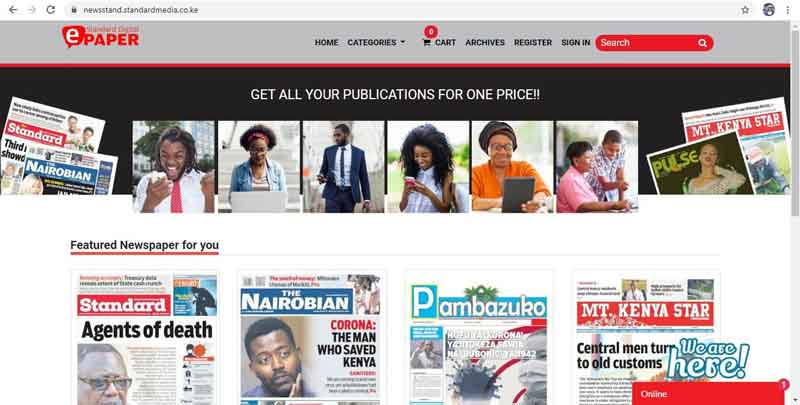 Working remotely, social distancing, self-quarantining, flattening the curve — new phrases whose usage has spiked in the past few weeks.
You wouldn't have heard of them but for Covid-19, also known as the Coronavirus disease. Pandemic, actually.
We hear about it when we wake up. When we switch on the TV. When we check our Instagram or Facebook pages. From kids to mama mbogas. From the high to the lowly, it's the word from every mouth.
It's then no shocker that there is a heap pf of misinformation out there on what not to do and what to do to prevent catching this virus.
Questions on people's minds
Do you have to wash your hands every 20 minutes? Do you have to undress once you get home and immediately clean your clothes? Is that sore throat you have from the common flu or is it Covid-19?
Is it safe to leave your house to buy groceries?
How is my job going to be affected? How is the stock market doing? What is happening in other African countries and the world in general? Can you travel from Meru to Nairobi at the moment?
To answer these questions, you need access to a credible and reliable source of information. For some, a physical copy of the newspaper daily does it.
If newspapers are your thing and you may problems getting a physical copy, we'd like to introduce you to the Standard e-paper.
It's what you are used to, with the added bonus being minimal contact as it will be available daily on your phone, tablet or any other mobile device. Oh, it's cheaper too.
And, you will have it anywhere, anytime.
How to get the Standard e-paper
For android users you can simply download the app using this link https://bit.ly/2Qiaufh As for the iOS users, visit https://apple.co/2QBTbWu With these links, you can download the Standard Digital E-paper and get your daily news from the convenience of your home.
The E-paper goes for as low as Ksh.10 daily if you subscribe to the annual plan and Ksh. 420 if you subscribe for a month. Through the platform, you can get access to all publications from The Standard, The Nairobian and Pambazuko editions with news fresh off the press every morning as early as 3a.m.
Keep safe, be in the know with Standard Digital E-paper; News on the GO!