Give more funds to the counties, governors urge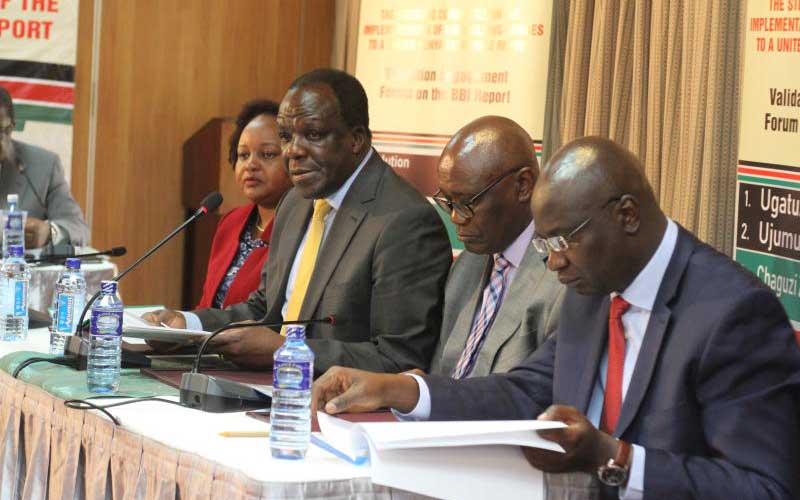 The Council of Governors (CoG) is seeking an increment of revenue allocated to counties from 15 per cent to 45 per cent of the last declared exchequer accounts.
While presenting the views to the Building Bridges Initiative yesterday, CoG chairman Wycliffe Oparanya also recommend Commission on Revenue Allocation (CRA) to approve borrowing of loans by the national and county governments. CoG also wants the national government to get 70 per cent of the benefits earned from the exploitation of natural resources with the counties taking 25 per cent while the communities will have 5 per cent.
The council proposes that counties should represent the interest of local communities in the signing of contracts for the exploitation of natural resources after public participation.
It also proposed to have a Ward Equitable Development Fund established in every county where 10 per cent of the current county development budget will be allocated.
CoG wants fines emanating from the county laws to be deposited to the County Revenue Accounts to form part of their own source revenue.
"Two per cent of the revenue to be allocated to the Judiciary to help in conclusion of pending judgments," said Oparanya.
CoG proposed that equalisation should be distributed to the counties by the CRA and implemented at the ward level. They want the National Treasury to be established as an independent institution to serve both levels of government.
"There shall be two IFMIS systems one for the nationals government and the other for counties," said Oparanya.
County level
They also wants the approval by the CoG be at the county level and be represented in the National Security Council.
"We want the National Treasury to transfer money to the county revenue funds whether or not they have balances," said Oparanya. CoG propose that all contracts for the exploitation of natural resources to be made public and recommended BBI to centralise public finance offices.
"BBI should ensure counties agree on ceiling for taxes on branding," said Oparanya.
Other recommendations seek to have all licences be issued by a central regulatory body and the revenue collected to be shared equitably by the board. CoG also wants a promotion of the dairy industry as per the constitution since this is a devolved function.
"We need to have various sections of the Crops Act 2013 to recognise the role of county governments in regulating crops," he added. The Council of Governors has proposed 5 per cent of own source revenue to be set aside for special interest groups. It proposes that all the 47 counties to be maintained as such including Nairobi County Government.
Download the BBI Judgement by all seven Judges - Civil Appeal No. E291 of 2021