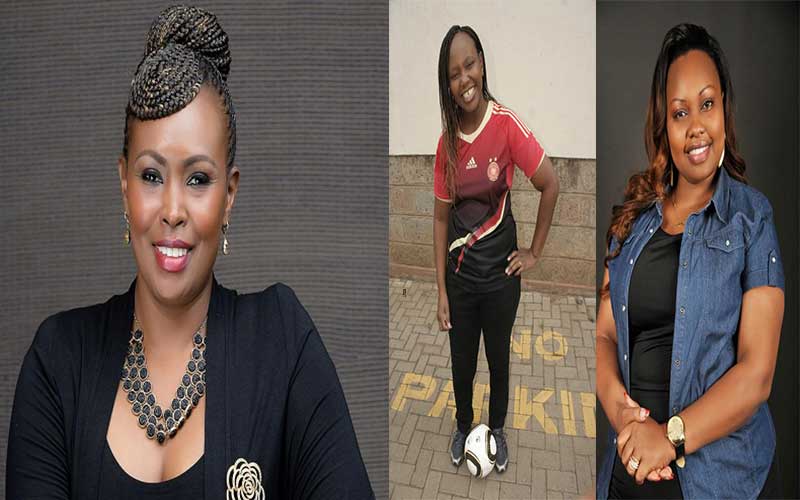 At the turn of the year, a couple of young men decided to go public about their secret admirers, and took to Facebook to declare their undying love to some well-known women.
One "Oanda" has a crush on Nominated Senator Millicent Omanga, while Dangote Kilonzo has his eyes on radio personality Caroline Mutoko. One Hon Bruce Newton Mungai has a crush on Radio Maisha presenter Mwende Macharia.
"I wanna marry you because you're the first person I wanna look at when I wake up in the morning and the only one I wanna tell goodnight," Mungai's post read in part.
Ms Mwende shared the post on her social media pages but she told the Sunday Standard that she has not responded to the Facebook user.
Flattering
"Someone sent me the post and I thought it was very funny and also flattering," she said. She revealed that she gets such proposals on Facebook, Instagram and Twitter accounts.
"It is flattering but I don't respond to such. I just let them have fun. It's what they feel," she added.
The men could have been inspired by a post by Timothy Sem, a software developer, on December 29, 2019 to radio presenter Carol Radull.
The messages were posted on the timeline of Group Kenya on Facebook. The group was co-founded by Sem in 2011 when he was in high school and so far it has more than 2 million members.
The posts seem to have been made in jest but they attracted social media users. Timothy, 23, told the Sunday Standard he was serious about his feelings for Ms Radull.
"I did not think she would reply, but if she did, I was hoping she would meet me for a cup of coffee so that I could tell her how wonderful she is. But I was touched by the fact that she replied and I wish she had told me why she rejected me," he said.
He confessed that he was a great admirer of the radio presenter.
"Listening to you on radio, you make my life complete, you make life worth living. I know you earn a basic salary of Sh480,000 I earn Sh20,000, so both of us, we will be earning Sh500,000 isn't that great?" read the Facebook post.
Timothy hoped they would meet so that he could prove to her that he was "the only faithful, honest and loving man left in Kenya."
"I hope this gets to you," read the post.
To his joy and to the amazement of more than 9,000 people who reacted to the post, Radull responded on her public Facebook page contrary to Timothy's wish that she responds privately if interested.
Radull wrote that she was flattered by his proposal but had to decline it.
"I am flattered by your proposal because loyal men who know how to love a woman are hard to find. However I need to decline your offer and I will not be in-boxing you," read the post.
Radull even commented on finances between married couples.
"Just a point to note; your financial proposition is not as crazy as some people think. I believe a couple should put their resources together to build their lives no matter what the disparity is. Men lift their spouses everyday and I don't see why women shouldn't do the same," she wrote.
The radio presenter encouraged Timothy to find a nice young lady and sent him virtual hugs.
Ms Mutoko seems to have clicked "ignore" on Kilonzo's request. Oanda, however, might end up with the best story, as not only did he get a response from his crush, Ms Omanga, she also offered to meet him and "empower" him economically.
He claimed that he was using his brother's Facebook account, Abel Momanyi Mweresa, and hilariously posted an image of him carrying all his earthly possessions in a bag on his back and on his way to Nairobi to meet her.
"I am writing this letter secretly using my brother's FB account, I would like to inform you that you stole my heart long time ago but reaching you is a big problem for me. Secondly, people fear you because you are beautiful. But I have decided to date you, even marry you though I don't have money but we can use yours for survival," read Mweresa's post.
Omanga rejected his proposal but agreed to a meeting and asked him to send his details for her driver to pick him up.
"Oanda Hi, surely I don't mind meeting you for your courageous efforts of reaching out to me," read her response. "Sadly, I am already taken but all is not lost, I still want to meet you, have a chat and also empower you economically so that when you meet the perfect girl utakuwa na pesa ya kulea familia and kufanya harusi pia. Ukifika Nairobi nichapie hapo kwa inbox my driver will come pick you up akulete offe yangu. All the best bro."
Kilonzo's post to Mutoko seems to have hit a wall, despite his pledge to marry her and be a father to her children.
"Being my all time crush, I cannot hide my feelings but to open up, I have what it takes to be your hubby, I know you have a beautiful kid, I will act as the father and support our child not only financially but emotionally and spiritually. I am not interested in your money but your love," read his post.
Despite not getting a response, he still follows the radio personality on social media and recently shared on his Facebook timeline a YouTube link of Mutoko telling ladies to "Quit average attitude."
Since none of the ladies were won over by the stunts, it looks like the Facebook Romeos will have to keep searching for love.