Gold mines of death, agony and misery for peasants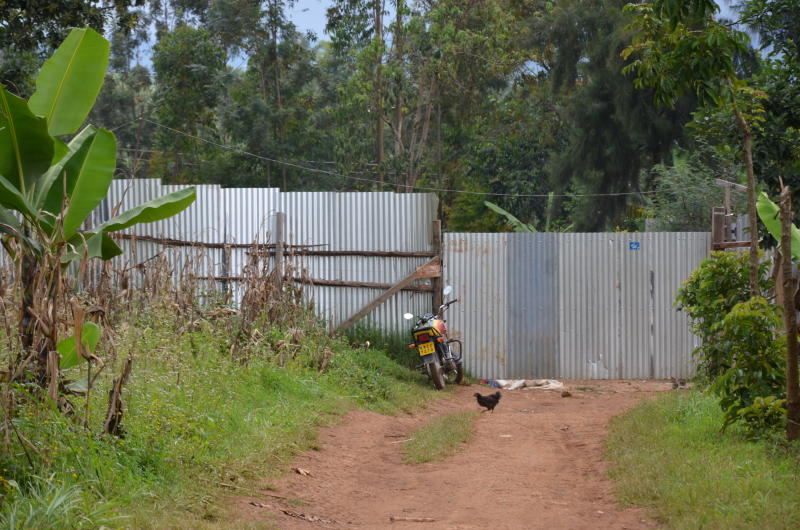 Paul Ikumili, 25, is distraught after losing family land leased out as a gold mining field to an investor in 2017.
A close relative who leased out the land did not disclose details of the agreement to the family. The investor immediately fenced off the land, rendering the family homeless. Ikumili's house was fenced inside the mining field.
"I dropped out of school in Class Six due to poverty and started mining gold to help me educate my siblings, but that was not to be. The house we live in is falling apart, yet an intruder is minting millions from our land," he told The Standard amid tears.
Mr Ikumili, who claims he has been assaulted by the investor, now says he is living in fear following threats to his life. He reported the two incidents at Malinya Patrol Base (OB11/19/09/2019 and OB05/01/10/2019), but to date no action has been taken.
The Standard team was denied entry to the disputed gold mines.
"This is an emotive issue. We are trying to resolve the matter, but no solution has been reached between the warring parties," said Joseph Chesire, the Kakamega South Police Commander.
Mine conflicts
Mr Chesire's sentiments were echoed by Kakamega County Police Commander Bernard Muli, who said the mine conflicts in the county could not be handled by police alone. Mr Muli said there was need for a multi-sectoral approach to the disputes, with local leaders being at the forefront.
Josephat Mutamba, another victim, was approached by an investor to lease his land in 2017, but he declined the offer. He instead agreed to work together with the investor and share proceeds from gold mining equally.
Mr Mutamba now claims all was well until March 2018, when they harvested more than 259g of gold and the partner travelled to Nairobi apparently to look for market. He disappeared.
"He resurfaced in April this year and told me he had lost the gold while on transit. He wanted to buy me out, but, again I refused and we agreed on a monthly rate of Sh40,000 for mining in my farm. He only paid between April and June," said Mutamba.
A 71-year-old widow, who sought anonymity, claims her "gold mine" at Mutaho village, Mutaho sub-location in Ikolomani Sub-county was grabbed last July by a foreign investor working with a local.
The woman, whose sight is failing, said the lease documents for the land were signed without her consent and anyone who has tried helping her has been threatened by the investors said to be working with police.
Luketelo, 32, is the other victim who claims he has been forced to flee from his ancestral land after the miners threatened to kill him for "trespassing" into their gold mines. He now rents a house at Malinya market, where he pays Sh400 a month.
Luketelo says he was attacked by a gang of three men and warned of dire consequences if he continued fighting to reclaim the land. The gold mine is at Buyemi village, Isulu location within Ikolomani Sub-county.
Last February Transparency International (TI) unearthed an intricate web of cartels running the illegal mining sites while enjoying protection from some senior government officials.
"We made an impromptu visit to the mining sites at Isulu area and confirmed that the complaints we had received from the locals were true. We interrogated the miners, but to our surprise, they had no legal documents allowing them to do mining in Ikolomani," said Elizabeth Duya of TI.
Ms Duya, in charge of Advocacy and Legal Advice Centre (ALAC), Western region at TI, said upon piling pressure on the government, the illegal mining stopped.
They forwarded the complaints to the Regional Geologist - Western and the Principal Secretary for Mining in a letter dated February 8, 2019.
This, however, is just a tip of the iceberg, as many other victims with similar cases are now living like paupers in their own land.
Evicted residents
Such incidents started being reported from 2013 when Acacia Mining Company carried out gold exploration in Kakamega and announced that the county had more than 1.31 million ounces of gold deposits valued at Sh171 billion along the Lirhanda corridor.
This opened doors for cartels of unscrupulous businessmen and politicians who, with the help of local administrators, have since grabbed gold mines and evicted residents from their land.
The unscrupulous businessmen then employ the evictees as casual labourers. Some of the labourers have accidentally been trapped in the mines while others have suffocated from fumes emitted by the generators.
Geoffrey Maina, the regional geologist, neither picked our phone calls nor answered text messages that sought his comment on the crisis.
The areas with rich gold deposits along the Lirhanda corridor include Malinya, Rosterman, Shirumba, Kilingili (along River Iguhu), Shipeso, Isulu, Bushiangala and Sigalagala.
Gold smugglers
The operations have been going on despite an earlier commitment from Mining and Petroleum CS John Munyes that official mining will start in the area in 2020.
A gold smuggler told The Standard gold from Kakamega was of higher quality than that from the Democratic Republic of Congo and was exported to Dubai, France, Saudi Arabia, Britain and the USA. This gold is smuggled through Uganda.
According to the smuggler who only gave his name as Wafula, they also get gold from Akala, Osiri, Mikeyi, Got Maria, Nyathoro and Shinyanga in Nyanza.
"We buy gold that is not from our mining sites at Sh3,800 per gramme in Kakamega. In Nyanza, we buy it between Sh2,000 and Sh2,500. When the same is exported to Middle East and Europe, a gramme fetches between Sh5,950 and Sh9,800," he said.