CS Monica Juma hints at diplomatic plan to boost forest cover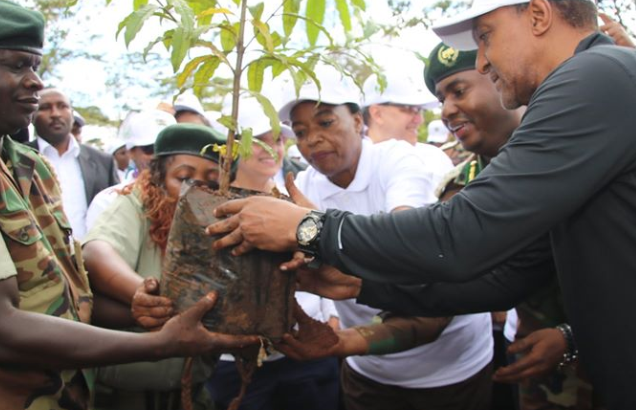 Kenya is in the process of creating a national diplomatic plan to scale up tree cover in the country.
Speaking at a tree planting event in Nairobi, Foreign affairs Cabinet Secretary Monica Juma said the initiative will go a long way in helping the country meet the international standard of at least 10 per cent tree cover by 2020.
During the Friday event several ambassadors and staff of the Diplomatic corps planted 1,100 indigenous tree seedlings at Ngong Road Forest Station, Lenana Block.
"I thank the diplomatic community for demonstrating a "humanity agenda" by coming together towards environmental conservation, the Foreign Affairs Ministry intends to create a National Diplomatic Plan towards scaling up tree cover in the country to meet the international standard of at least 10 per cent tree cover by 2022," said Juma.
The Minister for Foreign Affairs, Republic of Suriname H.E Ms. Yldiz Pollack-Beighle also attended the event
On his part, the Chief Conservator of Forests, Mr. Julius Kamau lauded the efforts of MFA in mobilising different foreign missions in Kenya towards adopting forest areas in Uplands and Ngong Road forest stations for rehabilitation.
He requested the guests to drive the message of forest conservation by tabling policies and ideas at international platforms that will form the blueprints through which our environment will be protected for future generations.
Also present at the event was the Dean of Diplomatic Corps and Ambassador of the State of Eritrea, H.E Mr. Beyene Russom, Ministry of Foreign Affairs Principal Secretary, Amb. Macharia Kamau, Ngong Road Forest CFA members, diplomatic dignitaries, officials from the Office of the County Commissioner among others.
Elsewhere Kajiado County Senator Philip Mpaayei on Wednesday led Kenya Forest Service staff in a tree planting exercise in Gospel Revival Church, Kiserian, Kajiado County whereby 3,000 tree seedlings were planted in the church compound.
This tree planting exercise was part of several tree planting activities that have been ongoing within the last two weeks spearheaded by the Ministry of Environment and Forestry.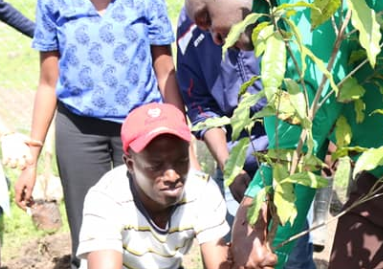 During the event, Bishop Julius Tinkoi requested for more support to churches in tree growing, bearing in mind they have an ability to influence congregants towards forest conservation. The Ecosystem Conservator Kajiado, Mr Peter Kioko pledged to support all partners in tree growing initiatives.
The team then proceeded to Kiserian Dam where a total of 2,000 tree seedlings were planted by KFS officers from Ngong Hills forest station, staff from Oloolaiser Water & Sewerage Company and Ministry of Environment & Forestry staff and the local Community Forests Association.
Samuel Kingoo, representing the CS Ministry of Environment & Forestry Keriako Tobiko, noted the milestones achieved through working with stakeholders in rehabilitating degraded forest areas and water catchment areas.
The Head of Conservancy Nairobi, Francis Kariuki, who was leading the KFS team on behalf of the Chief Conservator of Forests Julius Kamau, reiterated the importance of Community and stakeholder engagement in tree planting reminding the public that the Kiserian Dam sources its water from Ngong Hills Forest and it is vital to conserve these areas.