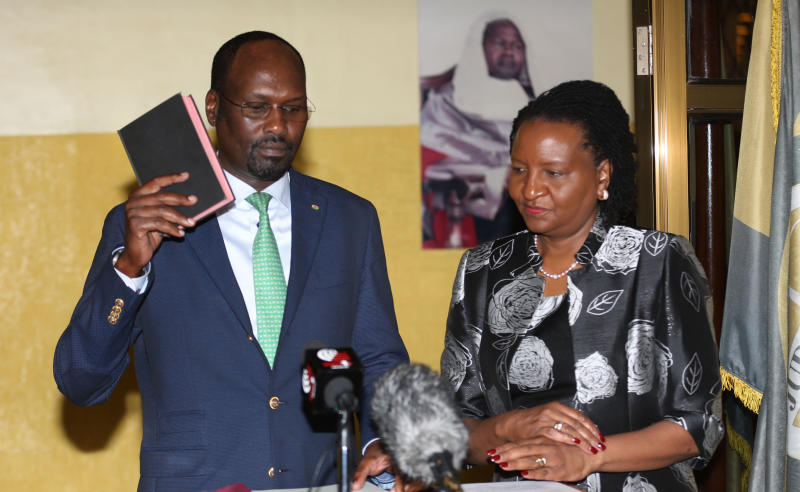 Samuel Kobia has been sworn in as the new National Cohesion and Integration Commission (NCIC) chairperson.
He takes over the role, which was held by former National Assembly speaker, Francis Kaparo.
Mr Kaparo, who is also former Laikipia East MP, left office after his tenure ended in August last year. Rev Kobia, alongside seven other commissioners, was sworn in at the Supreme Court on Wednesday by Chief Registrar of the Judiciary Anne Amadi.
The seven commissioners are former Rangwe MP Philip Okundi, former Vihiga Woman Representative Dorcas Kedogo, Sam Kona, Peris Nyutu, Abdulaziz Farrah, former Nairobi Finance CEC Danvas Makori and Fatuma Tanyara.
Kobia said the new team will map out a strategic plan to ensure the commission delivers as per its mandate of overseeing a harmonious Kenya.
"We will undertake conflict mapping of hot spot areas in order to guide the establishment of conflict prevention and mitigation mechanisms," he said.
The commission was established under the National Cohesion and Integration Act (Act No 12 of 2008) in a bid to realise long-lasting peace, promote cohesion and sustainable development.
The swearing in of the commissioners marks the end of a battle that saw delays in replacing the chairman and commissioners. Activist Okiya Omtatah had filed a petition barring parliament from hiring them.
The chairperson said they will incorporate President Uhuru Kenyatta's agendas in their activities, mainly the handshake deal with opposition leader Raila Odinga, which, he said, had established a friendlier political environment. Kobia noted that the commission would focus its delivery strategies on a citizen-based approach.
"We will incorporate citizen participation in our approach now that 2022 is fast approaching. We will set up regional offices through which we shall be closer to counties," he said.