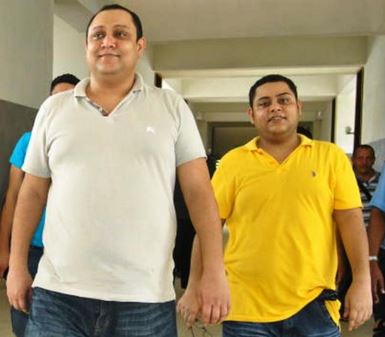 At least three Kenyan judges worked around the clock to ensure drug lords Baktash Akasha and his brother Ibrahim would not be extradited to the United States for trial for drugs trafficking.
US Prosecutor Geofrey Berman, in his fresh filings before US district court Presiding Judge Victor Marrero says, the Akashas managed to first obtain bail, followed the bail with constant adjournments and then persuaded another judge to have US authorities appear in Kenya with the hope they would not comply.
From court proceedings in Kenya, the Akasha brothers first obtained bail from a magistrate's court, which on December 1, 2014 ordered that they pay Sh5 million plus two Kenya sureties for their freedom as the court heard the extradition case.
While seeking to be released on bail, the two cited their ill health.
The Director of Public Prosecutions (DPP) immediately moved to the High Court for revision of the orders. A judge gave a limited stay of the bail orders pending the hearing of the case.
A second judge took over and seven days later, on December 8, 2014 agreed with the magistrate that the two deserved to be released on bail. This judge ordered that the DPP ought to have filed an appeal within seven days, failure to which the two would be released.
Enhanced bail terms
Aggrieved, the DPP went to a third judge. This time, the court enhanced their bail terms to Sh30 million each. They were also required to provide two sureties of a similar amount and report to investigating officers three days a week -- Mondays, Tuesdays and Fridays at 10am.
According to Mr Berman, the Akasha brothers were able to persuade a magistrate in Kenya to issue an order directing the US personnel to appear in Kenya—after learning that US prosecutors and agents would not do so — understanding that the anticipated non-compliance would serve as a basis for additional and indefinite delay.
The brothers had asked the court to order all witnesses who were mentioned in the affidavit by the State be produced in court.
"They paid bribes to Kenyan law enforcement personnel, prosecutors, and at least three judges, and their scheme was successful for years. First, the defendant and his co-defendants were able to obtain bail, which allowed them to escalate their efforts to obstruct justice in the United States," argued Berman.
Repeated adjournments
"Following their release, the defendant and his co-defendants were able to obtain repeated adjournments of court dates in the hopes that it would weaken the US Government's case due to a loss of witnesses and evidence," he argued.
Although they had been given conditional release by a Kenyan court, the US judge heard that they further flouted the court's authority and abused the Kenyan justice system, which enabled them to traffic drugs while out on bail in order to fund their obstruction efforts.
"In addition to the continued transport and distribution of methaqualone precursors, they increased their efforts to manufacture large quantities of methamphetamine in Africa," said Berman.
Just last month, Interior Cabinet Secretary Fred Matiang'i accused the Judiciary of derailing the war on drug lords.
"I was asking the DCI how many times they (Akashas) were released on bail and he told me they hardly spent one night in police custody. They walked in and walked out," Matiang'i said at a state function.
Victim of abuse
At the event, Matiang'i said it was an indictment on the country's judicial system that had the brothers not been extradited to the US, they probably would have no chance of facing the law in Kenya.
Meanwhile, Ibrahim in his plea for a lean sentence, says he is a victim of abuse by his family.
He says he could not question what his family wanted. In fact, he claims he was forced to marry a stranger when he was 19 years old.
He had four children. He then married a second wife in 2014 but she fled to Russia with their only child after a bitter split about his increased drugs use.
In his pleadings, the 31-year-old Ibrahim born of Akasha's third wife told the court that his family ostracised, shamed and discriminated him from a young age, which compromised successful identity formation, coping skills, reasoning and decision-making skills.