I didn't lure Linturi to hotel: Kitany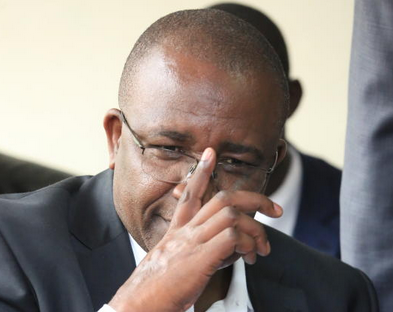 Former Chief of Staff in the Deputy President's office Marianne Kitany has said she did not lure Meru Senator Mithika Linturi to a hotel in Naivasha in 2014.
During re-examination in their divorce case, Kitany insisted that she did not entice Linturi to Sopa Lodge on the day he was to move a stillborn Motion to impeach then Devolution Cabinet Secretary Anne Waiguru.
"We travelled with Linturi to the lodge like willing buyer, willing seller. I did not lure him at all," said Kitany.
She said she started cohabiting with Linturi in June 2014 until March 2016 when they got married and started living as husband and wife.
Kitany told court they underwent Meru and Nandi traditional marriage ceremonies carried out by elders from the respective communities, adding that there were witnesses who had sworn affidavits confirming that their union was above board.
"Sh100,000 was given to my parents as a form of dowry," said Kitany. The court also heard that Linturi paid dowry in the form of a Nissan X-Trail.
The court was told the vehicle bought by Linturi for Kitany's mother was grey and it was registered under the name of Atticon Company.
Kitany said the directorship of the Atticon Company was still under investigation.
She has also accused the senator of forging another marriage certificate he produced in court.
Through lawyer Danstan Omari, Kitany said there was never a marriage between Linturi and any other woman.
Authentic certificate
Mr Omari asked the court to summon Linturi and the Registrar of Marriages to determine the authenticity of the marriage certificate.
Omari also denied claims that Kitany was harassing Linturi, saying his client was a jobless woman with no capacity to harass a senator.
"It is him who evicted my client from their matrimonial home until the court intervened and gave her access to the house," the lawyer said.
Kitany said they had never discussed the divorce issue, but she took legal action after realising Linturi had forged documents and transferred her family's property to himself.
She made the revelation after Linturi accused her of painting the Meru community as thieves.
Kitany maintained that part of the disputed property was a Sh38 million in Runda that had been bought by her family.
"I insist that I built Linturi's father a house in Meru worth Sh8 million. I also built our matrimonial house worth Sh26 million in Meru."
Wedding ring
She told the court her wedding ring was stolen by "goons" who evicted her from her home in Mae Ridge, Runda, last year.
Kitany added that she had never seen the need to change the details on her identification card to read the names of Linturi or her first husband.
She sought the court's protection from what she described as personal attacks by Linturi's lawyer George Wajackoya, who she accused of saying she needed psychiatric treatment.
"I am mentally and physically stable. The only time I was in hospital is the time I was delivering my last child," she said.
Kitany also denied claims that she was not telling the truth, saying the only time she had lied was when she was a young girl.
Welfare fights back after exposé
Child Welfare Society of Kenya (CWSK) Chairperson Shakila Abdalla has distanced herself from the child neglect allegations that have rocked the State