Kenyan pilot mints millions from waste materials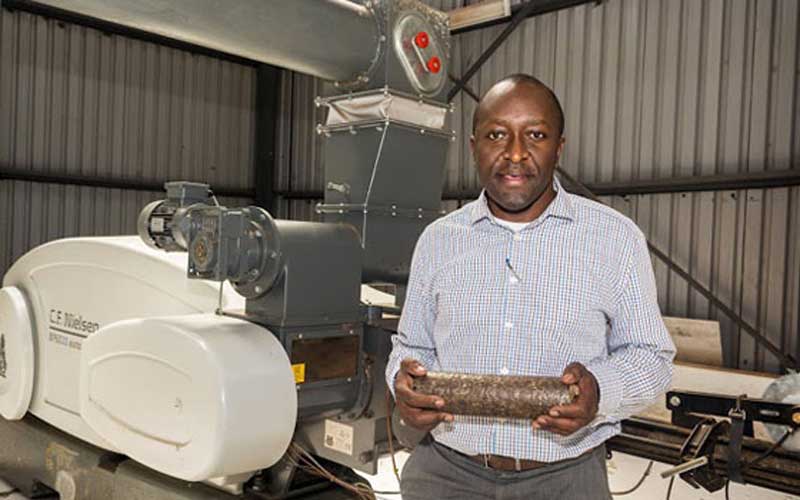 After serving as a pilot for over 15 years, Allan Marega shifted careers, albeit to a less glamorous and less paying one.
The soft-spoken man has moved from the cockpit to the charcoal business – to save the Kenyan environment.
Marega started Global Supply Solutions (GSS), a company that produced 'fancy' charcoal briquettes in 2015.
"My piloting career exposed me to different countries and technologies, enabling me to research new briquetting possibilities," he says.
Unlike traditional charcoal producers who were cutting trees, his firm made charcoal from waste materials from pineapple harvesters in Thika plantations.
It makes briquettes by compacting biomass waste into charcoal products in the form of solid blocks or pellets.
Marega says, "Pineapple waste has a higher calorific value than other sources of briquettes, meaning higher heat content and burns more than two times longer than charcoal".
"I got into briquette production to meet the growing demand for eco-friendly, cost-effective alternatives to fuels such as wood, charcoal and kerosene among consumers," he adds.
The raw material was readily available to Marega as Kenya ranks among the top five pineapple exporters in the world. This occasioned by the operations of Cirio Del Monte in Thika town.
Del Monte Kenya Limited, a food processing company, operates in the cultivation, production, and canning of pineapple products. It produces canned solid pineapple, juice concentrates, mill juice sugar and cattle feed.
It's estimated that Del Monte's pineapple plantation produces around 2,000 tons of pineapple on a daily basis, resulting in around Sh6 billion annual revenues from local and international sales.
With such a huge production line, the amount of waste was enormous. Thika town bore the brunt of air pollution from the mismanagement of such pineapple wastes.
The company did not have the capacity to recycle the massive amount of wastes that were either burnt or left to rot in the farms.
This is where Marega and his charcoal company stepped in. He embarked on the construction of the charcoal briquettes factory right on the plantation.
The factory was set up by Denmark-based briquetting machine maker, C.F. Nielsen.
Currently, Global Supply Solutions (GSS) is making Sh10 million in sales every month to clients such as East African Breweries Limited and Bamburi Cement.
The company has not gone unnoticed by environmental authorities and advocates. In 2017, it got a Sh110 million loan from Industrial and Commercial Development Corporation (ICDC).
The fledgeling company now intends to expand annual production capacity from 25,000 tonnes to 50,000 tonnes of briquettes.
A kilogramme of eco-friendly GSS pineapple briquettes retails at Ksh50, and clients range from schools, manufacturing firms and hotels.