Sh2 billion plan to settle veterans of Mau Mau struggle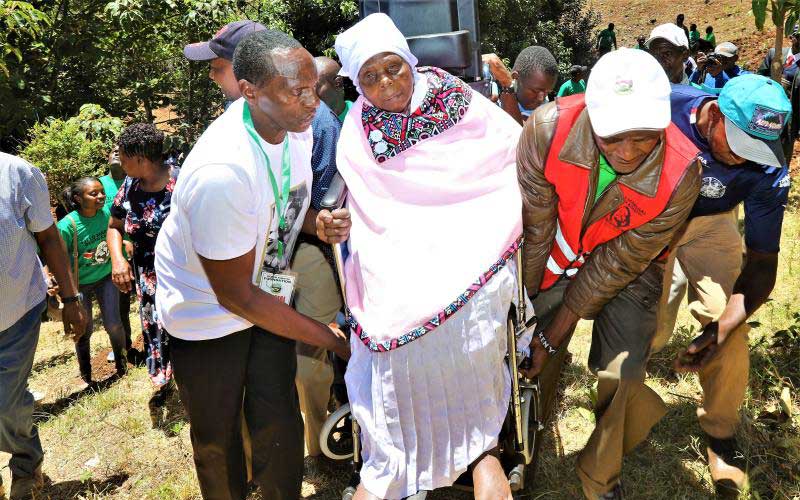 As Kenyans mark the 56th Madaraka Day, veterans and descendants of Mau Mau freedom fighters have a new headache. For years, the remnants of the liberation struggle have clamoured with little success for reparation from the State and British governments for atrocities and dispossession they endured under colonial rule.
Now, a foundation run by the family of the late freedom fighter Dedan Kimathi claims to have a final solution -- cut the constant pleas and procure, using own proceeds, an expansive parcel of land to settle the landless veterans and their families. Dedan Kimathi Foundation, run by Kimathi's daughter Evelyne Wanjugu, is undertaking a grandiose scheme to settle some 3,500 veterans on a 12,000 acre parcel of land in Rumuruti, Laikipia County at a cost of Sh2.3 billion.
On December 14 last year, the foundation signed an agreement worth Sh2.3 billion with Mathira/ Kihindwi/ Gitaraga/ Kahonoki Farmers Association for the purchase of the land in Rumuruti at Sh180,000 per acre. Over the past six months, the foundation has been on an aggressive drive to fund raise through crowdfunding and lobbying donor agencies and representatives of foreign governments.
It has heavily publicised a paybill number that the public can use to donate to its cause of resettling Mau Mau war veterans, most of whom live on the margins of society as squatters.
To get a piece of the expansive 12,842 acres of land, the veterans and members of their families are required to register as members for Sh2,550 and buy shares in the foundation at Sh5,000 per share. Every member is also required to pay a minimum monthly subscription fee of Sh200. In turn, each member is to be allocated three and a half acres by the end of January, according to assurances given to them. Yet it has not been smooth sailing as feasibility questions have dogged the project from the outset.
The foundation has paid Sh31 million to commit themselves to the purchase, but could be forced to forfeit the sum if it doesn't raise the money to buy the land. According to the agreement seen by Saturday Standard, a further Sh200 million was to be paid within 60 days of the execution of the agreement, making the money paid Sh231,156, 000.
Its CEO Ms Wanjugu would not reveal to Saturday Standard the amount paid for the land so far, but we have obtained information that the figure is in the region of Sh50 million. She insisted the question could only be answered by the patron, her mother Mukami Kimathi, the foundation's national executive committee and all its members. "I am not alone. We have a national executive committee. Some questions I cannot answer without them," she said.
It is instructive that Dedan Kimathi Foundation only came into existence on October 13, 2017 as a family foundation. It primarily relies on soliciting donations to fund its activities, some which include environmental conservation and mentorship. On February 21, it hosted a Dinner Gala and a Fundraiser at Uhuru Gardens in Nairobi whose goal was to help raise funds for the Mau Mau resettlement project.
Complex thing
According to its website, the flagship Mau Mau Freedom Fighters Resettlement project has only managed to raise Sh45 million out of the forecast budget of Sh2,537,524,000.
Previous attempts to raise funds from the Kenyan and British governments and the Nyeri County government have been unsuccessful.
On February 1, Nyeri Governor Mutahi Kahiga wrote to the foundation informing it that they had oversimplified the involvement of the county in the plan and the request was unachievable.
Among the organisations Dedan Kimathi Foundation had also contacted to fund the resettlement scheme included the United Kingdom's Department for International Development (DFID) whose representatives they met last year. A spokesperson for the British High Commission said yesterday that DFID was not currently partnering with, or funding, any Dedan Kimathi Foundation project.
Nevertheless, Wanjugu denied that their proposals had been turned down. "I know you have been told that the British have refused to help us but that is not true", she claimed. She said the Kenyan government had also kept its distance due to the volatile nature of Mau Mau claims.
Jeremiah Thuku, a member who says his father was a Mau Mau fighter, said he signed up during a meeting of the foundation held in Othaya last year. "I subscribed to a share and was told that we will have been settled in February and I am expecting land from them, but we haven't been given an update since," he said.
Other members said they had not received their share documents and certification despite paying for the shares. Laikipia County Commissioner Onesmus Kyatha said his office had not been made aware of any land transactions to that nature.