How fraudsters rake in millions from cane miller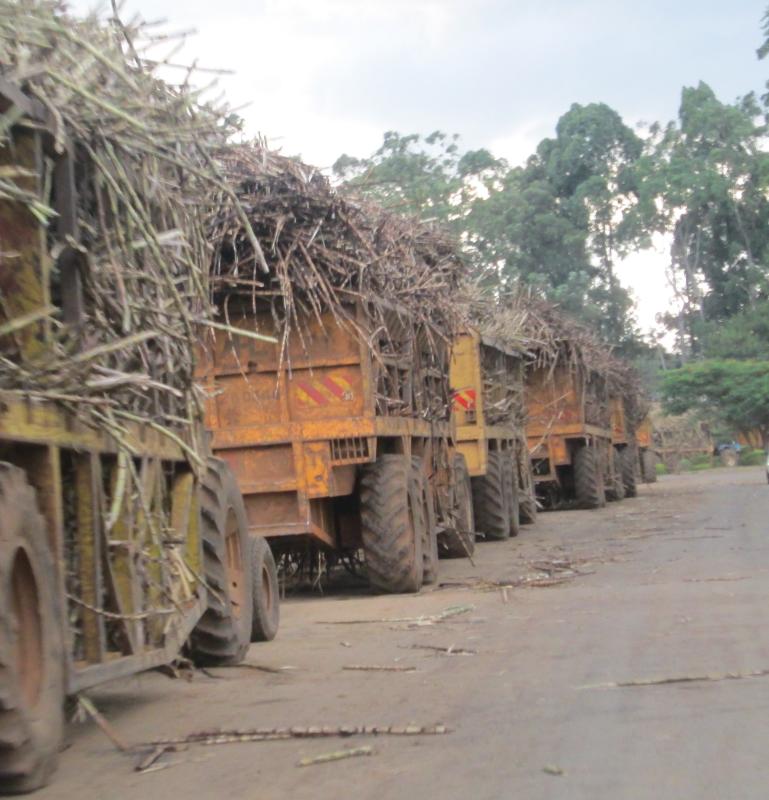 Racketeers have been minting billions of shillings from millers in the sugar belt by filling cases using fake documents from unsuspecting farmers including those who died years ago.
Investigations reveal that the racketeers have been altering contracts of the unsuspecting farmers to file cases in Rongo, Migori, Homa Bay, Kisii, and Kehancha towns.
In some instances, farmers who died as far back as 2013 are depicted to have risen from the dead to swear affidavits and file cases three years later which they won and were paid.
In one case, a dead farmer filed two cases in the same court demanding to be paid because his cane had not been harvested. The cases were filed long after he was buried.
In the two cases filed in May and June 2016, documents contain details for the same piece of land but show different dates on which the farmer allegedly executed the contract with the miller.
The cases filed and signed by the Migori farmer, who died on March 25, 2013 and a burial certificate issued on March 29, 2013, are still pending in court. They appear to have been filed on the same day as the case numbers follow each other.
In another case, relatives of farmer who died on September 3, 2013 at Tabaka Mission Hospital were shocked to learn that their father had filed a case in September 2017.
His son has in turn sued the law firm which drew the controversial plaint accusing the lawyers of fraud. Investigators have also discovered another case where a farmer John Otieno Orwa filed a civil suit in 2015 and was ultimately paid Sh296,676.63 and later went to court in 2018, and is demanding payment for 32 tones of unharvested cane which he has valued at Sh3,500 per tone. The case is pending.
Yesterday, Sony Sugar Managing Director Bernard Otieno said he had been forced to form a special team to audit the suspicious cases.
Terminated
"After doing due diligence and talking to our farmers, about 1,000 cases have been terminated when we established the farmers were not even aware they have been filed. This is after we established that the farmers' documents had been forged and that they were not aware of the law suits," Mr Otieno added.
The MD said in such cases, Sony company documents had been forged, fake rubber stamps made, signatures forged and affixed on bogus contracts which were then presented in courts.
There were instances names and details of chiefs from distant locations were used in the bogus contracts.
"Our contracts are such that they must be witnessed by a chief so that he verifies that the farmer is the legitimate owner of the land. This is why the racketeers have been forging the chiefs' documents," he said.
However, Otieno noted not all the cases filed against the miller were forged.
"Between 2014 and 2018, we have paid out Sh500 million. We have over 7000 cases which are still pending and the claims before court could go up to Sh2 billion."
The money paid out by the company to compensate bogus farmers was shared out by crooked lawyers and some Sony insiders who leaked vital documents and had in the past frustrated efforts to tame the runaway number of fake cases.
"We have traced some of these farmers and had them record statements showing that they were not party to the suits. These cases have been reported to the Directorate of Criminal Investigations who are now dealing with the matter," the Sony boss said.
Advanced Forensics Limited, the private investigator hired by Sony to probe the matter established a string of fraudulent cases.
The company's Managing Director Kimani Njuki said, "when we were hired last year, we picked a sample of 100 cases out of 7,000 cases which have been filed in court. We have analysed 50 of them and determined that fake documents and details of dead farmers had been used to files the cases."
Mr Njuki added that of the 50 cases sampled, 24 have been concluded in various courts and Sony ordered to pay more than Sh500 million. The highest amount paid to one farmer was Sh113 millionfor 3,9675 tones which were rated at Sh28,500 per tone.
The investigator added that the remaining 26 cases have huge claims and were likely to cost the miller.
The Saturday Standard has established that already the accounts of one of the law firms with Sh16 million have been frozen after the Office of the Director of Public Prosecution and the DCI established that they were involved in suspect activities.
Otieno said it was ridiculous that the company has been paying high claims for allegedly not harvesting cane from contracted farmers while it was operating below capacity due to lack of sugar.
We have also learnt that another sugar company operating in the same area has hired private investigator to look into the possibility of fraud and forgery after it was hit by 1,000 law suits for allegedly not harvesting cane.
"It is true we are investigating cases targeting this miller. We have been receiving demands and have been sued by some farmers who after investigations we have established were already paid for their cane," explained an official of Transmara Sugar Company.