Matiang'i to MPs: Stop intimidation by abusing parliamentary privileges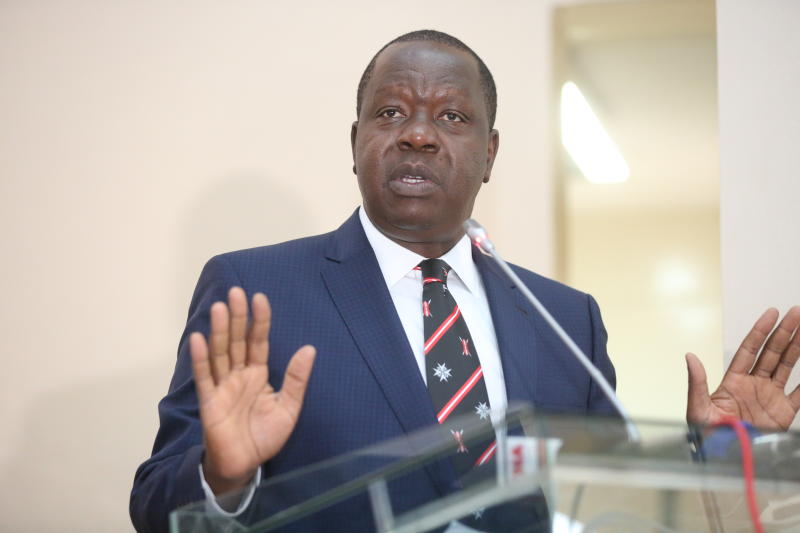 MPs have been accused of trying to intimidate members of other arms of the Government.
Interior Cabinet Secretary Fred Matiang'i accused members of the National Assembly of abusing parliamentary privilege.
Dr Matiang'i said the House leadership could jeopardise the principle of separation of powers if it did not protect members of other arms of Government from legislators.
"The leaders of Parliament must ensure that parliamentary privilege is not abused. They must protect those who do not have the platform to defend themselves from adverse attack by MPs, otherwise it will be very difficult for other arms of Government to work well."
The CS was on Wednesday the subject of attacks by legislators on the floor of the National Assembly, with MPs accusing him of failing to appear before committees to respond to questions regarding his ministry.
The MPs accused him of not answering about 60 questions that had been raised by members, a concern that prompted Speaker Justin Muturi to direct the Committee on National Security to invoke parliamentary summons against him, with threats of an impeachment even being issued.
The debate on the CS was prompted by his failure to appear before the committee earlier in the day to, among other things, respond to an alleged crisis at the Prisons Department.
The committee noted that this was not the first time Matiang'i had failed to show up. But yesterday Matiang'i termed the attacks as unfounded.
Take a quick survey and help us improve our website!
Take a survey
He showed The Standard records of his appearances before the committee, and two files of the answers he provided the House on all questions raised by MPs.
"I have appeared before that one committee a record 39 times this year alone. I have all the records of my appearances and those of the officers from my ministry. Where are these 60 questions that they claim I have failed to answer? Let them bring them forth," Matiang'i said.
He accused some MPs of taking advantage of parliamentary privilege to settle scores.
Clarification note
Matiang'i said he had written what he termed a clarification note to Mr Muturi, even as he protested the manner in which the Speaker moderated the debate against him. He said Muturi let legislators make false claims about him.
"Some of those who were strongly attacking me on the floor of the House are not even members who sit in the security committee," he said.
"The criticism I faced was not right and fair. Common decency requires that you exercise fairness, especially when exercising an exclusive privilege."