US donates 12 armoured vehicles to Kenya to aid in terrorism war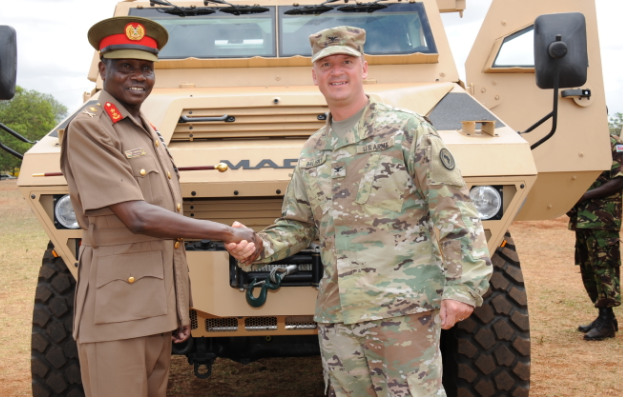 The US Government has given 12 Bastion Armored Personnel Carriers (APC) to the Kenya Defence Forces (KDF) to improve border surveillance.
The APCs will support KDF's efforts in the fight against extremists, including the use of Improvised Explosive Devices (IED) by Al Shabaab, along the border region.
Defeating the threat of IEDs is a critical component of denying violent extremists freedom of movement, a statement from the US embassy in Nairobi said.
US Defense Attaché and Senior Defense Official Colonel Kevin Balisky presented the vehicles to the Deputy Kenya Army Commander Major General Thomas Chepkuto Monday at a ceremony at the Kahawa Barracks in Nairobi.
"These vehicles represent the unwavering US commitment to Kenya and our shared national security interests. As the KDF continues to conduct daily operations against violent extremism, these vehicles will enhance the mobility and force protection of their troops in harm's way. We are proud to be friends and partners with the KDF as they secure and develop peace in the border region," said Colonel Balisky.
The US is currently providing a three-week train-the-trainer course for Kenya Army operators and maintainers of the Bastion APCs.
This is a boost to the troops who are operating in the volatile and porous border where tens of personnel have been killed and injured in the past years by explosives.
More than 100 security personnel have been killed in the incidents in the past year alone on the border stretching from Lamu to Mandera.
Dozens others are nursing wounds in hospitals after their vehicle ran over IEDs.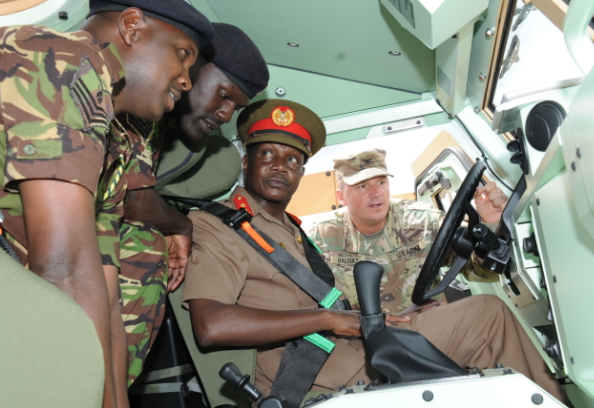 And as part of efforts to tame the terror incidents, the Administration Police's border patrol unit has now started to take over the border posts from other agencies as specified in new police structure.
They have already camped at Nadapal, Kenya-South Sudanese border and almost half of the Kenya-Somalia border.
The team intends to cover the entire border from Lamu to Mandera as part of efforts to tame infiltration by the terrorists.
This is part of efforts to see APs focus on their main role of protecting the country's strategic installations, VIP protection and border security.
The APs will now focus on Rapid Deployment Unit (RDU), Border Police Unit, APS Stock Theft Prevention Unit (APS-ASTU) and Critical Infrastructure Protection Unit (CIPU).
The Bastion APC is based on the 4×4 rigid mechanical-welded chassis of all-terrain multi-role tactical vehicle and has a conventional layout with engine at the front, which ensures full length floor extending through rear for crew and troops.
Its cabin can be equipped with air conditioning system, radio devices, and observation and record system and the vehicles are fitted with beacon light, loudspeaker, siren amplifier, public address system and search light.
The vehicle is also provided with smoke grenade launchers and up to nine gun ports for firing rifles.