Journalist Dola sentencing for manslaughter pushed to November 6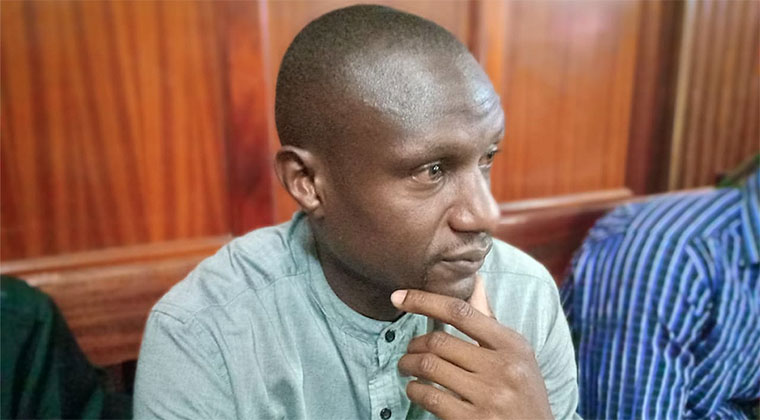 Journalist Moses Dola who was found guilty of killing his wife will wait for another 10 days to know his fate.
This is after court postponed his sentencing scheduled for today to November 6 owing to probation officer's failure to submit a pre-bail report.
The file would have enabled the court to arrive at a conclusive ruling.
Guilty
On October 6, 2018, the High Court found Dola guilty of manslaughter following the death of his wife Wambui Kabiru.
At the time of her death, Kabiru was a reporter at NTV and resided at Umoja Estate, Nairobi.
Judge Roselyne Korir ruled that Dola was a stronger party in the fight that led to the death of his wife and was therefore culpable.
In an emotional blow-by-blow account of the events during his defence in 2017, Dola narrated how May 1, 2011 began like any other day, a testimony that cut Kabiru's case from the rest, revealing a remorseful Dola.
Dola, also a journalist, said on the material day he woke up at 7.30am, headed to the sitting room and started playing gospel music which beamed in all rooms. He then went back to the bedroom where Kabiru was sleeping.
She allegedly questioned why he played loud music while she and their son were asleep. Your opinion is valuable. The two fought over radio volume.
Dola testified that Kabiru then went after him with a pair of scissors. He added that she had been using the scissors to trim her dreadlocks.
"Just as I was picking our son, she shot up and charged at me. She asked where I was taking her baby. In her charging, she was holding the scissors. It was a split second event. Unfortunately, it pricked (sic) my hand but I managed to squeeze her hand and she released it," Dola testified, showing the stab wound on his palm.
"That was where the problem began."
Wambui had a problem with the music and she said in Kiswahili 'Wewe ukiamka kwa hii nyumba kwani kila mtu lazima aamke (If you wake up in this house, must everyone else wake up?)."
Kabiru in the confrontation fell and hurt her head.
In the confusion, Dola left the house to return later to a lifeless Kabiru.
Although he presented himself to the police later, Dola disappeared for a while.
He surrendered himself at the station, saying he had nothing to hide.
Justice Weldon Korir in 2016 heard that the couple's bedroom was locked and Dola denied Kabiru medical attention. Prosecutor Catherine Mwaniki said medical examination confirmed the TV presenter was hit with a blunt object.
In May 2016, the High Court ruled that the prosecution had proved its case beyond reasonable doubt against journalist Dola for Kabiru's murder.
In a 2014 interview, Dola described the goings on after Kabiru's death as one of the "darkest moments" in his life.
On May 16, 2011, he was taken to prison where he spent 627 days before his trial started.