Natives sad as efforts to revive dying language fail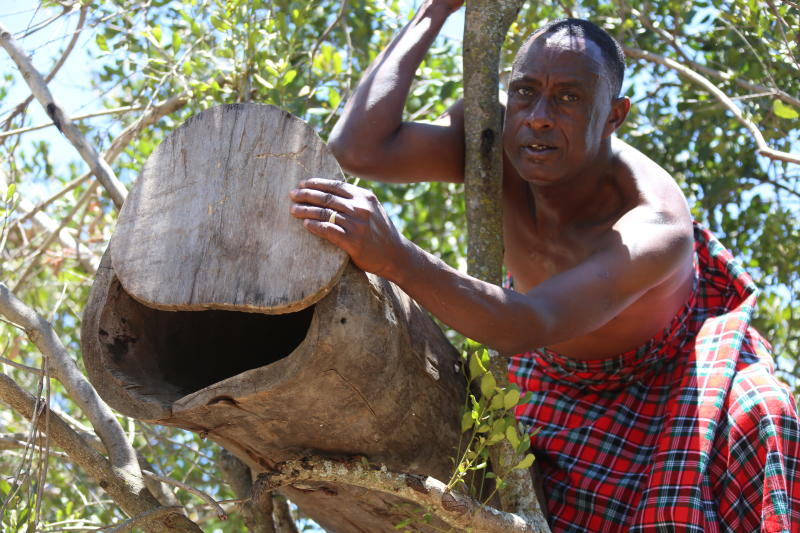 It's 11 am, the sun is scorching in a sleepy village in Doldol more than 60km from Nanyuki town.
In a fenced homestead on a hill, Leteiyon Leitiko, is sheltering under a tree from the baking sun.
From here, Leitiko has a magnificent view of the surrounding hills in Mukogodo. His brother joins shortly and after a brief conversation, the wife and son–in-law join us.
The 70-year-old man gets distressed every time he muses over his native language, Yakunte that is getting extinct.
The Yaaku were assimilated by the Maasai community and Leitiko and his six tribesmen speak fluent Yakunte. Many died before their children could learn the language.
Took over their land
The language is dying and the only way the community hopes to preserve it is to complete a dictionary where they are translating Yakunte words to Maasai and in English.
The Yaaku who are Cushites were assimilated by the Maasai. They were integrated into Maasai culture, abandoned their language and started speaking Maa.
The Yaaku are believed to have originated from Ethiopia through Northern Kenya after tribal clashes and settled in Mukogodo Indigenous forest in Laikipia North more than 100 years ago.
The name "Mukogodo" is Yakunte meaning people who live in rocks. Leitiko said they lived in rocks and caves.
The Yaaku were hunters and gatherers and practised beekeeping which they have not abandoned to date. "When game hunting was banned in Kenya we were badly hit because Yaaku people were hunters," said Leitiko.
Like any other tribe, Yaaku had do's and don'ts that dictated children and adults behaviour.
"When a boy identified the girl to marry, he notified the parents and they were both circumcised before marriage. Two beehives, and hind leg of a giraffe were part of bride price and outlawing giraffe hunting meant young men could not marry," said Leitiko noting that today, they give livestock as dowry.
Men were tasked with hunting, honey harvesting, conducting religious and cultural rituals such ass cursing, blessing, praying and marriages while women were making skin clothing's for children, collecting firewood and cooking.
When the Maasai lost their land during colonial period, they pushed the Yaaku to the forest and took over their land. "Some areas like Ol Daiga hills was inhabited by one of the four Yaaku clans but it was taken from us by the Maasai," said Mannaseh Matunge, 52, a former primary school teacher.
The Yaaku being few and with little wealth, the Maasai perceived them as inferior, and referred to them as Ntorobo, meaning "poor people with no livestock," and this marked the slow extinction of the tribe.
The Maasai married Yaaku girls and gave livestock as dowry, a factor that led to the dwindling Yakunte tribe and culture.
This prompted Mr Matunge to come up with the Yakunte dictionary to preserve the language and is lobbying the government to recognise the community.
Establishment of a cultural museum in Doldol, teaching Yakunte in the local schools were among efforts started in 2010 to revive the language but nothing has been done so far.
"We used to bring the young people together with the remaining Yakunte speakers but it failed. Our worry is that generations will never know there was such a language," said Matunge.
Today, the Yaaku are considered part of the Maasai by the government. During the 2009 census the population was 6,000 but it has since increased to about 10,000.
"Although we have integrated with the Maasai, we are not Maasai. Yaaku people were not pastoralists but today our younger generations are speaking Maasai and a few know Yaaku. Yaaku people felt inferior because they did not have wealth unlike Maasai and the girls were getting attracted to their boys" he said.
Honey being their staple food, the Yaaku feel the Maasai do not conserve forests which are their source of food.
Source of food
"Yaaku people believed in conserving forests because it was their source of food (honey and animals). Their animals graze in the forests and the flowering plants are destroyed. Yaaku elders conducted prayers at the fountains but today they have been destroyed by livestock," he added.
Conservancies have since taken over caves that were inhabited by the Yaaku and converted them into tourist's sites.
For instance, Tasia Lodge in Lekurruki conservancy was inhabited by the Sialo clan.
Yakunte is among the seven indigenous Kenyan languages that have been classified as extinct by UNESCO.
The Kore, Lorkoti, Suba, Sogoo, Elmolo were listed as the endangered dialects according to a 2010 report by UNESCO.