State holds on Aboud Rogo's widow despite her acquittal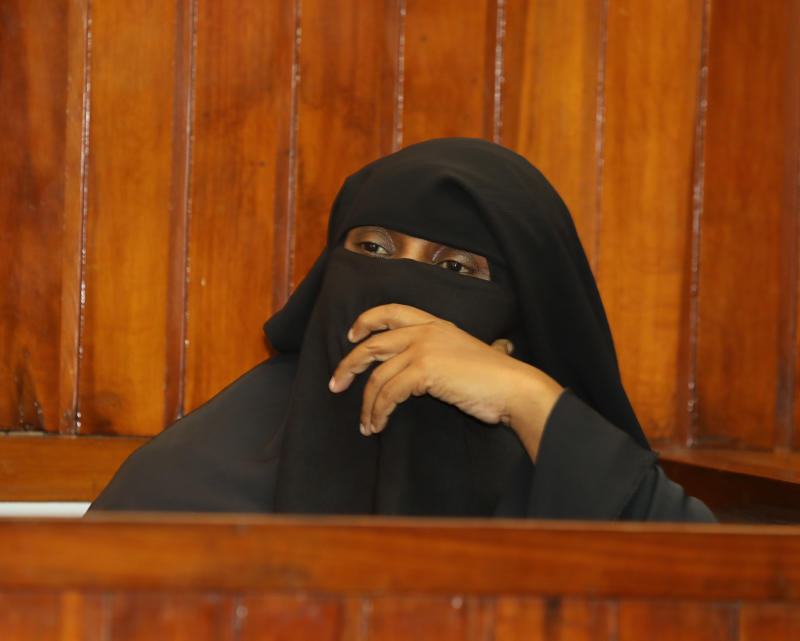 Despite being acquitted by the High Court on Friday, authorities have refused to free Haniya Said Sagar, the widow of the slain radical cleric Sheikh Aboud Rogo.
Yesterday, her lawyer Mbugua Mureithi and rights group Haki Africa in Mombasa accused the State of plotting to hold her indefinitely at Shimo la Tewa Prison arguing that this amounts to "detention without trial".
The State wants the courts to rely on a precedent set by the Supreme Court last week to allow the continued detention of two Iranians freed of terrorism charges by the Court of Appeal last year but Mbugua says the precedent cannot apply in his client's case.
On Friday, High Court Judge, Lady Justice Dorah Chepkwony overturned Sagar's 10-year conviction over a botched terror attack at Mombasa's police station on September 11 2016.
Justice Chepkwony ruled that the lower court erred to convict Saggar on defective charge sheet adding that there was no sufficient evidence to link the appellant to the attack. The lower court convicted Sagar for alleged links to three female terror suspects who raided Mombasa's Central police station on September 11 in 2016.
It was short-lived freedom for the widow after the State applied to the same judge to suspend her judgement on grounds that the prosecution intends to appeal the acquittal.
On Friday afternoon, the judge suspended the acquittal, after the prosecution filed a motion of appeal, ordering that Sagar should be detained at Shimo La Tewa until Tuesday when she will rule on the matter.
"The Judge relied on the precedent set by the Supreme Court in the case of two Iranians accused of terrorism-related activities. The apex court suspended the acquittal of the two until an appeal by the State is heard and determined," Sagar's lawyer Mbugua Mureithi said.
Mbugua however said that the circumstance of the two cases were different as the Iranians, Ahmad Abolfathi Mohamed and Sayed Mansour Mousavi were detained because they were flight risk and Kenya and Iran do not have extradition treaty.
"It is just an absurd precedence or decision. We cannot suspend or substitute civil liberties because of court's inherent powers," he said.