Mwilu's rise to the judiciary top leadership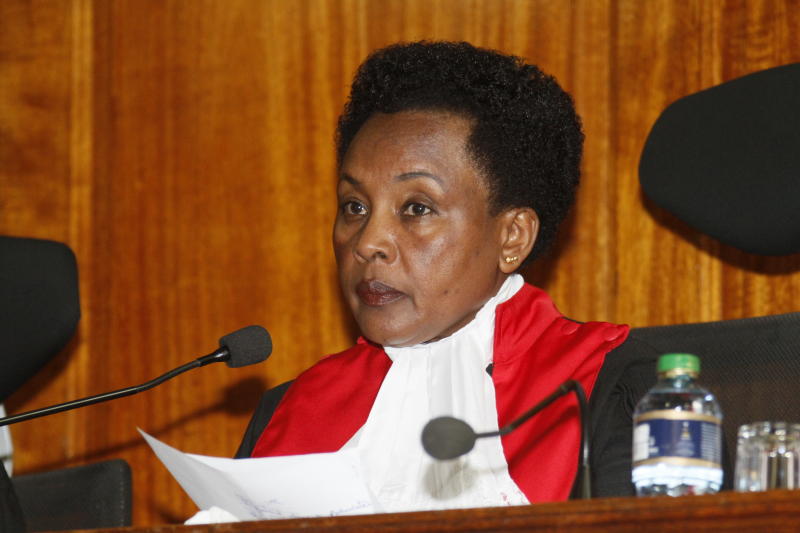 When Deputy Chief Justice Philomena Mwilu was interviewed for the job in October 2016, her stance on fighting corruption won over the interview panel.
She told the panel that her vision was to weed out cartels operating in the Judiciary, and punish judicial officers engaged in corruption.
"I will ask the Chief Justice to give me the docket of fighting corruption. The systems I will put in place will get rid of the vice within the first two years of my operation," she said during the interview.
Chief Justice David Maraga granted her her wish, and appointed her to receive and handle complaints against judges.
Little did she know that the hunter would become the hunted and that she would later be hauled to court to face corruption charges.
Born in Makueni, Justice Mwilu, 54, has had a long career in law and the Judiciary, spanning over 32 years.
She graduated from the University of Nairobi with a Bachelor of Laws in 1982 and proceeded to the Kenya School of Law for a diploma before being admitted as an advocate of the High Court in 1984.
Career journey
The judge began her career as a lawyer in Muthoga Gaturu and Company Advocates in 1984 before joining Mutunga and Company Advocates until 1991.
Between 1991 and 1997, she was employed by Jubilee Insurance Company as a senior legal manager. She moved to the Electricity Regulatory Board as a board secretary in 1999.
She was appointed the deputy chairperson of the energy tribunal where she served from 2006 to 2007 before being appointed board director at Nairobi Water and Sewerage Company
She was appointed a judge in 2007, first serving in the commercial court division in Nairobi. She was then moved to the High Court in Eldoret.
From Eldoret, she was transferred back to Nairobi where she served at the criminal division of the High Court. She was appointed the head of the environment and land division of the High Court in January 2012.
In November 2012, she was appointed a Judge of the Court of Appeal where she served until her elevation to deputy chief justice in 2016.
The mother of three does not shy away from speaking her mind. Asked about her stand on polygamy during the interview, Mwilu said she would not stop any man wishing to marry more wives.
Legal issues
"I find nothing illegal about polygamy since our communities have been practicing it without any problem," she said.
While appointing her, JSC said it was satisfied with Mwilu's ability to bring cohesion in the Supreme Court.
According to JSC, her understanding of legal issues and ability to interpret issues put her above other candidates for the deputy CJ post.
To fight drought, involve communities
According to the latest information from the Meteorological Department, rainfall will be poorly distributed in April, May and June, and this will have a serious impact on agriculture