Senior Private Hezekiah Ochuka the 1982 coup maker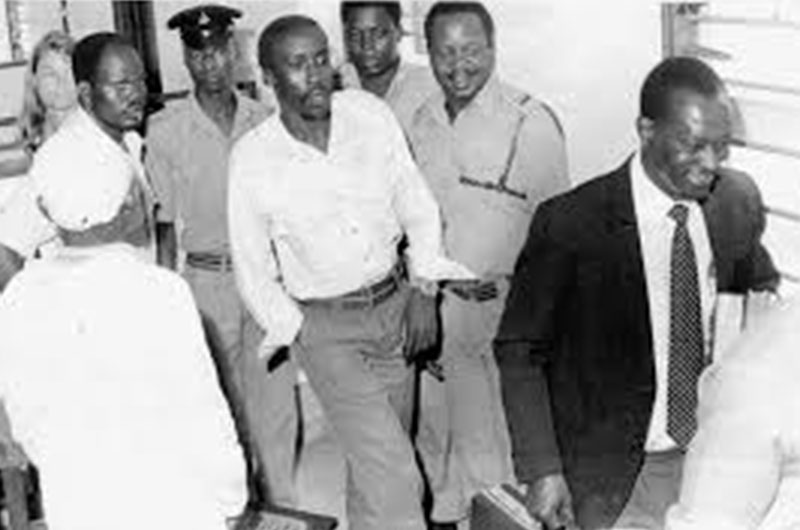 He is better known through a photo in which his slender chest is tacked in a white shirt complemented by a defiant smile.
Fists in the air, he makes the aluta continua salute in spite of handcuffs.
This is Senior Private Hezekiah Ochuka, the man who was at the centre of the August 1, 1982 attempted coup, which the then president Daniel rap Moi survived in less than a day.
After Naki Kabete Primary School in Nyanza, Ochuka proceeded to Mirogi Secondary School after which he joined the military in 1976.
Through with his basic training at Lanet, Nakuru, he was posted to the Eastleigh Air Base, Nairobi, where he was trained in aircraft electricals and instrumentation before further training with the Royal Air Force, UK.
Thereafter, the man from Nyakach was deployed as Senior Private, the second lowest rank in Kenya's military in the 1980s.
When local media reported about a confession of the late Sergeant Joseph Ogidi Obuon, who was co-accused with Ochuka, of masterminding the coup, one thing stack out about Ochuka: He was a fearlessly unapologetic.
A day before the coup attempt, Ochuka acquired a radio for coordinating the coup with fellow plotters in Nanyuki, Embakasi and Nairobi.
Washington Post reported that the coup plotters got their math wrong: They seized the state broadcaster but failed to subdue other institutions.
It perhaps reveals how Ochuka and Co never had their plans watertight
Ochuka and fellow serviceman Pancras Oteyo fled to Tanzania to seek asylum but were extradited to Kenya for trial for treason and sentenced to death.
In 2014, media reports had it that Ochuka's family was pushing the government to furnish it with a certificate or any formal document validating his hanging, and perhaps the clothes he wore on the day of his death. At least for them to conduct rituals, reports indicate.
The reports further said the family had learnt of Ochuka's execution from someone who worked at Kamiti Prison but they could not trust him 100 per cent.
Other reports have indicated that Ochuka was hanged mid-1985, while others speak of 1987.
Ochuka was born in 1953 in Nyakach.