Seven rhinos die mysteriously after translocation to Tsavo East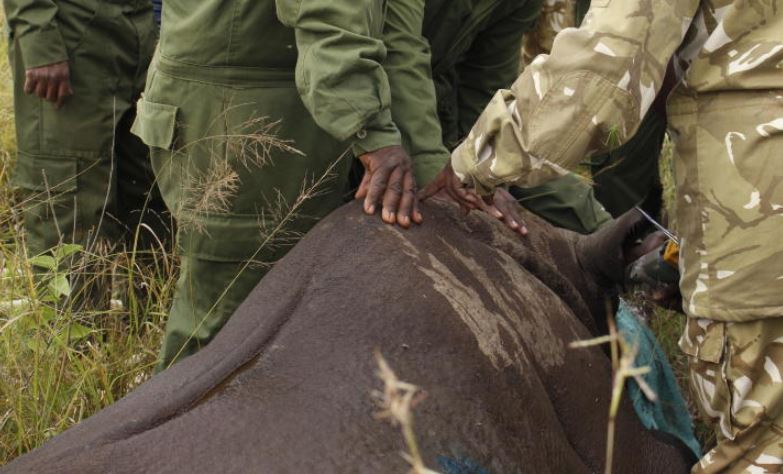 All seven of the critically endangered black rhinos that were relocated to Tsavo East National park have died. The seven were among the 14 rhinos that were marked to be moved from Lake Nakuru and Nairobi national parks in an effort to save them from poachers.
Mystery surrounds the circumstances under which the animals died. Kenya Wildlife Service (KWS) refused to comment, amidst rising pressure from conservationists and Kenyans on social media calling for an explanation on how the rhinos died.
"Somebody should explain what is going on. Did the rhinos die during translocation, in the field, in the sanctuary where they were supposed to stay? And how did they die?" said Paula Kahumbu, a conservationist and CEO of Wildlife Direct.
Tourism mister Najib Balala said he got news about the death of the rhinos three days ago, and immediately commissioned an investigation.
"Two teams, from South Africa and University of Nairobi, are already conducting post mortem exams on those animals. The results should be out in one week," he said.
He said preliminary reports suggest that the rhinos started getting ill when they arrived at their new habitat. They suspect the saline water in Tsavo could have affected their health. Their move was a publicised event where KWS invited a team of journalists to cover what was regarded as a new journey for the endangered animals. They were darted with drugs to sedate them, blindfolded and bundled into a track where they were expected to be alive safely, away from poachers. Barely three weeks later, they have all died.
"We will go backwards and find out how they died. I want to assure Kenyans that if it was because of negligence, the people responsible will be dealt with," he said.
He also blamed the way the translocation was done, saying the animals were under intense pressure from journalists who wanted to cover their translocation from Nairobi. He said the clicking cameras and noise as journalists struggled to get into the track to capture the historic moment last month could have caused intense stress to the rhinos.
He however could not explain whether surveys and tests were done to ensure Tsavo East was the best habitat for the rhinos.
The relocation of endangered animals -- known as translocation -- involves putting them to sleep for the journey and then reviving them in a process which carries risks.
World Wide Fund for nature that partnered with KWS in the translocation said they could not give details on the exact cause of the death, or discuss the circumstances. Through the communication person, Mohamed Awer, CEO of WWF-Kenya said they are in contact with KWS, to launch an independent assessment of what happened.
"Translocating wild animals of this size is extremely challenging and not without risk, but black rhinos are under enormous threat so efforts to try and better protect them, such as translocations, are crucial for future generations," he said in a press statement.
According to a report by Save the Rhinos, there are currently less than 5,500 rhinos in the world, and all of them are in Africa. Kenya's rhino's population has been dwindling rapidly, despite numerous efforts to save them. In May, three rhinos were shot in a protected sanctuary, creating an uproar that led to the arrest of the officers in charge.