Kenyan officer narrates hours in Ugandan cells and the unending trauma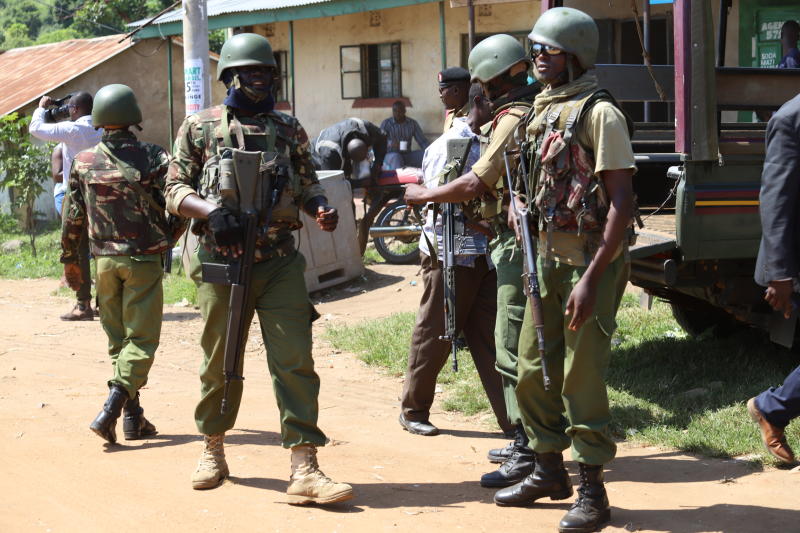 From his two-roomed house at Nambo beach, Martin Ng'onde contorts his face in agony, trying to massage his right hand.
Lucky to be alive, Ng'onde was released on Tuesday after spending more than 24 hours in the Ugandan police cells.
In a house ten meters away, Bonventure Odongo takes a rest after a gruesome ordeal. The two are the victims of a Tuesday arrest by Ugandans near Hama Island.
Their experience soaked with pain, a stark remainder of the grim attack that almost snuffed out their lives.
Unlike the others, Ng'onde sustained injuries of the hands and head, after he was beaten by the mean-looking Ugandan soldiers.
The 43-year-old coxswain told The Standard that they were responding to a 'distress call' near Hama Island when an army of about eight heavily armed men attacked them.
"We had seen some three boats from a distance and somebody raised his hand as a sign of somebody seeking for help. We rushed with an intention of finding out what was the problem," recalls Ng'onde.
In a split second, the gunmen, some of whom were in jungle fatigues and head scarves, opened fire.The first shot almost made him deaf.
The three Kenyan police officers, Nehemiah Ondora, Amos Kamande and John Njue were ordered to surrender their weapons.
"It happened so quickly. One of our officers refused to surrender his gun. A civilian from the Ugandan boat, who is known as Paul jumped into our boat and forcefully took the gun from the officer, "he narrated in a feeble voice.
After more than 30 minutes of confrontation, the Kenyan police, appearing overwhelmed, gave in.
"We took about 45 minutes to Hama Island, where we were taken. We were forced to lie down as the officers started torturing me," he explained, adding that all their mobile phones we taken away.
Ng'onde, who has been a coxswain for the last 22 years says that they were transferred to Busiro, before being taken to Namaingo.
According to Bonventure Odongo, it was one of the darkest days in his life. "I had a lot of things running in my mind since there was no channel of communication between us and our families," he says.
Odongo, 24, who was the co-coxswain, says it was a sigh of relief on Tuesday when they finally arrived in Busia under the escort of Ugandan security.
Even though they were booked in a self-contained hotel and assured by a senior police officer that they should feel at home, Ng'onde and Odongo say they were still not happy.
"We were taken to Namaingo where a senior officer intervened. He ordered that we be given back our phones and other belongings," says Odongo.
Ng'onde says that even though he knew the officer who took his phone, he could not dare ask him for fear of confrontation.
He narrated, "We managed to talk to a CID who assured us that we would be taken back to Kenya but as it got late, our hope of being released was fast fading."
According to them, they left Namaingo for Busia at around 6pm, where they were received by Kenyan security team.
Anxiety as more police officers deployed
Meanwhile, anxiety and fear has gripped Usenge town following the deployment of security officers. The Administration Police officers, who arrived in a lorry at Usenge APs' camp will patrol the lake.
According to the officer in charge of the team, Mr Francis Gomre, the officers will be deployed to Mageta Island, Uhanya and Nambo beaches.
"There's no cause for alarm. This is just a normal deployment to ensure that we give our people adequate security," said Gomre.
The deployment follows the recent attack and arrest of three Kenyan police officers and four fishermen by Ugandan soldiers.
The three officers and two coxswain were released on Tuesday and handed over to Kenyan security team at Busia customs.
Even though there was an agreement to have the remaining fishermen released, sources say they have since been transferred to Lolwe Island.
KANU out of Baringo by-election
Kanu will not field a candidate in the upcoming Baringo South by-election citing underhand dealings by the ruling coalition, Jubilee Party.