Ethnic names alone cannot be used to determine our boundaries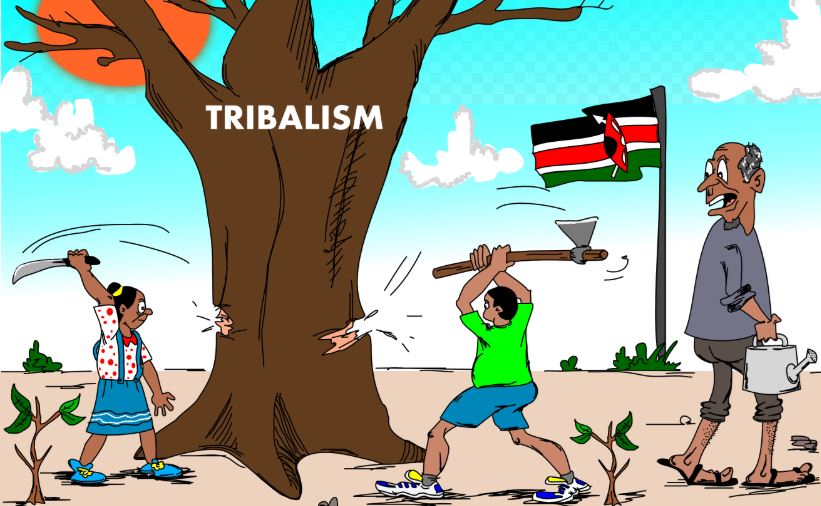 Leaders who divide their people never understand what peace means to the ordinary Nandi or Luo. It means everything.
Because such leaders reside in high places where they will live eternally, they never realise that the absence of inter-communal peace disrupts people's lives forever. As I wrote in the past about my little village in Songhor, Muhoroni, education ended for children of the late Mzee Carillus Odoro (claimed by the border clashes of 1992).
Peace meant everything to me when I regularly walked a long distance to Oneno-Nam Primary School every day from 1989 to 1992 and had to follow a lonely footpath dividing Nyanza and Rift Valley provinces. Had there been war in the three years before my KCPE exam in 1992, I would never have finished school.
My best friend at Oneno-Nam was called Moses Kiprotich (God knows where he is these days!), the son of Mzee John Sinja.
Moses was a jolly boy, light-skinned, and a wonderful runner. I sometimes wish my primary school does not forget that titanic race at Achego Primary School in 1990, where Moses beat a tenuously resilient competitor from our 'enemy' school, and Moses proceeded to Chemelil for our primary schools' base meets. In class, we fought with Moses like two spent wrestlers.
At my village in Odiyo Wang'e, Moses used to visit so he could taste omena soup. I regularly crossed the border and drank mursik sprinkled with what looked like charcoal before Moses would escort me back.
Destroys friendship
And then, suddenly, the excellent runner returned to Soba-River Primary School in 1991 (it was farther away from their home than Oneno-Nam was).
With the benefit of hindsight, I can say Moses' return to a school on his side of the border was a fair pointer to the coming of the 1992 clashes, when Nandi and Luo parents ordered their children to attend ethnic schools even when these were far from home. I proceeded to Onjiko High School in 1993 and, to this day, do not know where Moses Kiprotich is – and that is how miseducated politics destroys friendship among young Kenyans.
Unresolved land injustices cloud our history. Yet there are many politically-motivated lies about the Nandi-Luo boundary in Muhoroni.
One truth is this: the eastern stretch of Muhoroni Constituency was always a contested space ages before the construction of the railway line in 1901, and long before colonial farmers such as Mantheakis (whose widow owned Nairobi's Ambassadeur Hotel), Macleod, Miller, Tutton, and Dawson pushed my good Nandi neighbours eastwards around 1906/07.
The construction of the metallic snake saw the forced removal of even Luos from the northern, to the southern side of the line. Indeed, only an unschooled eye might not see that erecting a boundary presupposes an initial tendency to disregard that boundary. Its other side is vilifying the white man for committing land injustices, and then quoting a boundary erected by the same unjust white man.
From Awasi town north on your way to Chemelil, you reach Onyalo Biro centre. Reminiscent of the fierce 17th century Nandi-Luo border wars, this is where the white stone rumoured to be the remains of the Luo legend, Lwanda Magere, is. Yet the Lwanda Magere story stretches far north past Kopere centre (where a Mr Perry lived) all the way to Tambul centre (where a Mr Turnbull lived) towards Kapsabet.
Marry across the border
Names are a problematic method for establishing 'ownership'. The fact that L Victoria is so called does not mean it was 'originally' an English woman's lake. I am referring to the political word 'Chemelil'. When I visited Poto Poto centre on the other side of the border of Emgwen Constituency in 2015, my sagely Nandi friend Mzee Silwal (called by a Luo name, 'light-skinned') told me that 'chemilil' also refers to the nearby two hills where the Nandi used to graze their cattle centuries ago. Hence, the word is not rigidly restricted to the space where Chemelil Sugar Factory today is.
Nyangore Primary School is a short distance from Poto Poto centre itself. The school's name is derived from the Gusii word 'nyangori', meaning 'a rope'.
In fact, Nandi oral history clearly says the Kisii people once lived in Nyangore. Shall we also give Nyangore Primary School to either Kisii or Nyamira County?
The Luo and Nandi continue to marry across the border. A Nandi girl who grew up at the foot of Songhor Hills on the Nyanza side is currently married in Homa Bay. My father used to keep part of his cattle with a Talai Nandi family at the foot of the same hill.
Back in 1961, some leaders once urged their communities to expel innocent Kenyans who were not 'native' to Coast and Rift Valley Provinces, respectively.
Are we back to those hate-mongering years? The question is this: which is worthier of Kenyans' time than the other – letting communities continue gelling for the higher ideals of nationhood, or being detained by nativist war cries of failed leadership?
This is a question only the Independent Electoral and Boundaries Commission (IEBC) should answer.