Governors lose bodyguards as scale down on VIP protection begins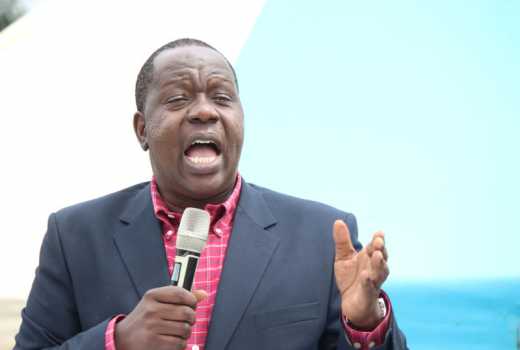 Governors are set to lose half of the armed bodyguards seconded to them in a new move aimed at scaling down level of VIP's protection in the country.
Already some governors have complained part of their bodyguards had been withdrawn.
Police headquarters has instructed County Commanders to confirm the number of officers attached to the governors as escort and bodyguards.
"As a matter of urgency, please confirm the number of officers within your divisional area who are currently attached as escort or bodyguard of governors. Please treat this as urgent," said a memo sent to all commanders.
Officials said some governors have been driving with up to ten bodyguards. Governors usually have four guards attached to their residences- two daytime and two at night.
Bodyguards attached to parastatal chiefs have also been recalled. The parastatal bosses have been advised to seek services of watchmen.
Interior Cabinet Secretary Fred Matiang'i has announced plans to scale down the level of VIP's protection by half percent, in two months' time.
Matiangi said officers will be deployed to protect life and property of ordinary citizens.
There are 12,000 officers assigned to various VIPs as drivers, bodyguards and even messengers.
The CS is said to have been angered after being informed some private ranches in parts of Laikipia are guarded by armed police officers.
"Some private ranches have up to 200 armed officers who are paid allowances by the state. Some VIPs have up to 12 bodyguards when Kenyans are suffering," said an official aware of the plans.
Matiang'i has already told private security firms the government will withdraw armed police from the Cash In Transit (CIT) business from July.
This will leave the firms with the responsibility of escorting cash and other valuables for various institutions and individuals.
Matiang'i told managers of the firms the government will issue gun licenses to vetted companies who will in turn arm their personnel to conduct their businesses.
He also told the firms to prepare their guards for the job of VIP protection.
Kenya has over 100,000 police officers with president Kenyatta saying he has surpassed the United Nations recommended police to civilian ratio of 1:450 through aggressive recruitment into the service.
A team that was headed by former Kenya Airways Chief Executive Officer Titus Naikuni had proposed that the officers be released to undertake their core responsibilities to avoid situations where many policemen are underutilised by being deployed to work for a few VIPs at the expense of the majority.
But the scenario remains the same. This is because almost one out of every seven police officers are deployed to guard the elite, leaving only about 70,000 to meet all the country's policing needs.
Some top State officials each have up to a dozen bodyguards, stretching the capacity of the country's service.
Tens of VIPs have up to 12,000 police officers assigned to them as bodyguards, cooks and messengers.
Apart from the President and his deputy, who have at least 200 and 45 security guards respectively, holders of sensitive dockets also have a high number of the 12,000 officers who provide security to VIPs.
While the size of the security detail varies according to the duties discharged by an official, and the level of risk, there have been concerns about the merit for some, especially those used to public displays of force.
Complaints have also been filed against senior officials who use their escorts with blaring sirens to break traffic rules, for instance driving on the wrong lanes and pushing other motorists out of the way.
All MPs are entitled to at least one police bodyguard each, and two each for their homes upcountry or in the city. Some policemen are also deployed to some of these VIPs as their drivers.
Governors, deputy governors, several chairmen of parliamentary committees, the Chief Justice, the governor of the Central Bank of Kenya, the Speakers of the National Assembly and Senate, Inspector General of Police, his deputies are also in the league of the fortified.
These public officers each have a chase car, at least five guards, and another division protecting their spouses and children.
An unspecified number of influential personalities, former Cabinet members and retired public servants also have police guards – because of risks posed by decisions they made and information they accessed while in office.
Some parastatal chiefs, principal secretaries and even deputy secretaries are also entitled to police bodyguards. This is apart from APs assigned at every level of the provincial administration such as county and sub-county commissioners.
KCB Bank meets Chandaria innovators
KCB's future outlook has been anchored on investment creation driven largely by the youth proposition flagship programme 2jiajiri and KCB Lion's Den