Police issue warning on terror suspects planning to sneak in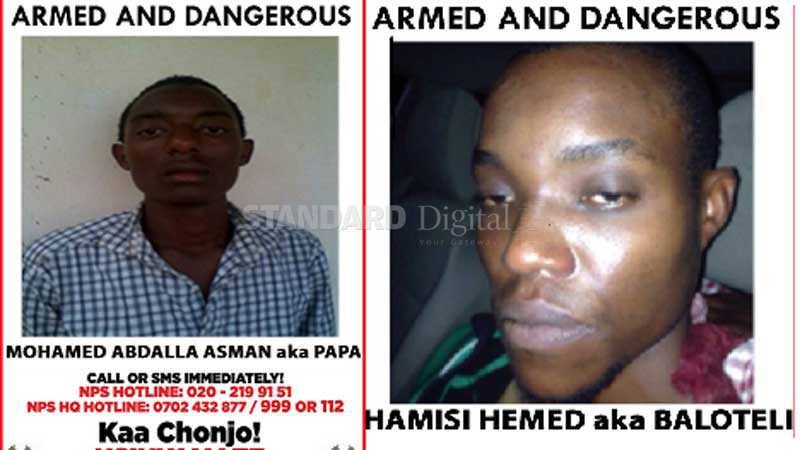 Police have identified three terror suspects said to have left for Somalia to join terror group Al-Shabaab.
There are fears the three will sneak back to Kenya and stage an attack at any time.
Police spokesman Charles Owino said yesterday Mohamed Abdalla Asman alias Papa alias Raymond from Majengo in Nairobi, Hamisi Hemed alias Baloteli and Ali Ahmed Ali, both from Malindi are missing.
"The three are suspected to have sneaked out of the country to Somalia to join the Al shabaab in early April this year with the help of some local Al-Shabaab contact who we are also pursuing."
"We have information that the three plan to sneak back into the country to stage terror attacks. We also have information that they are in contact with suspected terrorists within the country with whom they may be planning for attacks," he said.
He asked for vigilance and cooperation from the public to stop the mission.
Asman is an ex-convict who was released from jail in July 2017 after arrested by security agencies on October 4, 2013, while on his way to Somalia.
At that time, he had been facilitated by Sheikh Ibrahim Umar alias Amru who taught him religion at Answar Sunna Mosque later made plans for his travel to Somalia but the plan never materialized.
Asman was convicted, served at Garissa Prison, and then released on 12th July, 2017.
Before their disappearance, Hamisi Hemed and Ali Ahmed Ali both worked at a hotel in Malindi Town, Kilifi county.
"We regret to note that there are still some families and Kenyan businessmen who are knowingly abetting radicalization, recruitment and facilitation their kins to join terror groups," said Owino.
He urged that anyone who may see the three to report to them and any suspicious individuals that could be engaged in radicalizing youths for prompt action.
"We therefore warn those who do not cooperate with the police, especially parents, that withholding information on suspected radicalization, they risk losing their children."
Dozens of Kenyan youths are in Somalia fighting with Al-Shabaab.
Kenya continue to face terror threats from both outside and within even as agencies make efforts to contain them.
In February, security agencies intercepted a cache of arms that were wet being shipped from Somalia to Nairobi to stage an attack on courts, Parliament and a church.
Four suspects are facing various charges over the recovery in Merti, Isiolo County. A car had been ringed with explosives and was ready for detonation. The terrorists also had dozens of hand grenades that they intended to use in their mission.