Miguna: I was drugged and flown out of Kenya unconscious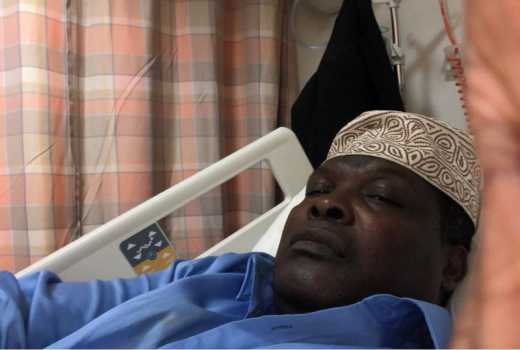 Lawyer Miguna Miguna says he was drugged and bundled onto a Dubai-bound plane on Wednesday night.
Miguna landed in Dubai yesterday morning after his second deportation in as many months but refused to leave the international airport.
He was deported from Jomo Kenyatta International Airport (JKIA) in Nairobi following a three-day detention in the airport.
The plan to deport him was ready by 6pm, when State officials booked three tickets - for Miguna and two security personnel.
The tickets were for an Emirates flight that was scheduled to depart Nairobi at 10.45pm, documents seen by The Standard confirm.
Miguna's lawyers arrived at the airport at about 8pm, armed with High Court orders requiring his release and appearance in court on Thursday.
Lawyers James Orengo, Julie Soweto, Nelson Havi and Cliff Ombeta could not however get through a ring of armed police guarding Terminal 2, where Miguna was being held.
Only Kamanda Mucheke from the Kenya National Commission on Human Rights was allowed to see him briefly.
Buy food
In a Facebook post, Mr Mucheke said he had gone to buy food for the lawyer when he received distress calls that he was being led away.
"It's been another day at JKIA with Miguna Miguna in the toilet cell before he was abducted and taken away. I left him in the toilet to go buy him dinner since he was not being provided food by his captors," posted Mucheke.
"Minutes later, he called me in distress asking me to go back quickly since he was in danger. By the time I rushed back it was too late. The police blocked me and violently denied me re-entry into the toilet to deliver the food to Miguna," he posted.
It was then that Miguna was roughed up and apparently sedated before being handcuffed and driven to the runway to board the plane that was by then open for boarding.
"He was injected through his ribs and wrist," said Mr Ombeta.
The lawyers were kicked out of the airport as they tried to serve the Immigration Department with court orders.
Ordered out
Journalists who were at the airport were also ordered out by armed policemen.
News of the deportation broke as the plane taxied at JKIA.
On landing in Dubai, Miguna posted on social media that he needed medical attention after being "dragged, assaulted and drugged" before being forced to leave JKIA for Dubai.
He said he was being forced to travel to London.
In message he sent early on Thursday morning, he said: "I woke up in Dubai. I'm sick. I need medical treatment. A Mr Njihia is threatening me. I need urgent help here. I want to take a flight only to Nairobi. Nowhere else!"
Emirates refused to confirm whether Miguna was indeed bundled onto their plane.
"We do not comment on the travel details of individual customers. Emirates always abides by the rules and regulations of the countries we fly to. Deportation is a matter for the local authorities," the airline said in a statement.
To fight drought, involve communities
According to the latest information from the Meteorological Department, rainfall will be poorly distributed in April, May and June, and this will have a serious impact on agriculture