Youths protest Miguna detention at JKIA as judge summons Matiang'i, Boinnet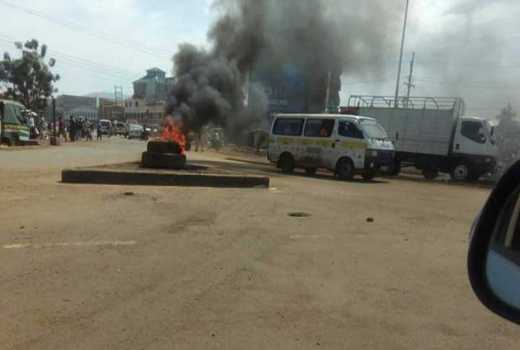 Hundreds of Opposition supporters took to streets to protest the detention of self-proclaimed National Resistance Movement (NRM) general Miguna Miguna.
They lit bonfires on roads demanding justice for the politician.
Traffic was disrupted as the youths blocked the main highway that links Kisumu and Kakamega towns, forcing motorists to use alternative routes.
The crowd wore T-shirts emblazoned 'Resist' while brandishing placards screaming 'No Miguna, No peace' 'No Miguna no handshake'.
The protesters, however, did not damage any property.
Led by ODM youth leader Rodriguez Lunalo, they asked the Government to respect the rule of law or else the citizens would also disregard the law.
The demonstrators also vowed to oppose the Raila-Uhuru rapprochement.
"Raila came here recently and promised good tidings in the handshake deal, including the return of Miguna and the limited to peace. Why then did Miguna have to undergo such a dehumanising treatment at Jomo Kenyatta International Airport?" posed an irate youth John Ogutu Omollo.
They said no amount of intimidation will heal the country if the leaders cannot embrace and broker peace, love and unity as is prayed in the National Anthem.
Police observed from a distance as the youth barricaded roads. Some motorists also complained of harassment as the crowds surged at Kondele roundabout.
Justice Roselyn Aburili on Tuesday ordered Interior Cabinet Secretary Fred Matiang'i, Director of Immigration Gordon Kihalangwa, and Inspector-General of Police Joseph Boinett to release the lawyer and present him in court on Wednesday morning, an order that has since been defied.
The High Court Judge George Odunga later ordered the three senior government officials to appear in court in person at 2.30pm over the Miguna issue.
Come 2.30pm and the trio did not appear in court and Miguna Miguna was not produced.
To fight drought, involve communities
According to the latest information from the Meteorological Department, rainfall will be poorly distributed in April, May and June, and this will have a serious impact on agriculture