Raila vows to sue Cambridge Analytica, Facebook for running 'devilish' propaganda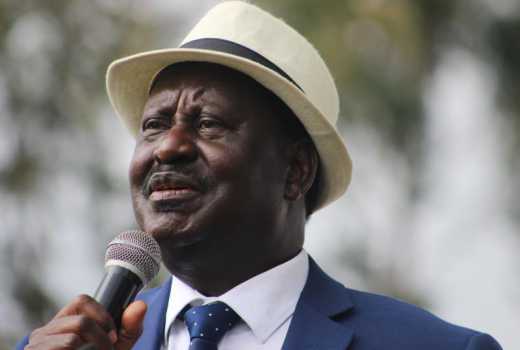 National Super Alliance leader Raila Odinga has threatened to sue British data mining firm Cambridge Analytica and Facebook for running 'devilish' propaganda against him during 2017 polls.
The NASA leader, during an interview with Channel 4 News that exposed the data firm conspiracies on how it had fixed the Kenyan elections for President Uhuru Kenyatta in both 2013 and 2017 in which he was the main challenger, expressed his frustrations with how Kenya's elections were run.
"I am disappointed that Facebook agreed to cooperate in this clandestine enterprise. I have been very disappointed, and we are actually contemplating legal action against Facebook," he told Channel 4 News.
In the videos made by Harris Media, that went viral during the campaign period, Raila said he was portrayed as an evil man and incapable of leading the country.
He accused the British company for taking advantage of the impressive internet penetration statistics in Kenya to drive negative campaigns which worked against his presidential bid.
According to a video secretly recorded and broadcast by Britain's Channel 4 News, Cambridge Analytica, deployed psychological manipulation to influence voters in both the 2013 and 2017 presidential elections
The news channel said it mounted a sting operation in which it secretly recorded top Cambridge Analytica executives saying they could use bribes, former spies, and Ukrainian sex workers to entrap politicians around the world.
In Kenya, Cambridge Analytica interviewed 47,000 people to assess Kenyans' fears, then used the information to engineer an online media onslaught against Uhuru's opponents.
The firm worked with a local research partner to deliver results for Uhuru in 2013 and then replicated the strategy in the 2017 polls.
In an expose run by Channel 4 this week, Mark Turnbull, a managing director for Cambridge Analytica, admitted that his firm secretly stage-managed Uhuru's election.
"I think we wrote all the speeches and we staged the whole thing - so just about every element of this candidate," Turnbull said.
Cambridge Analytica has since suspended its chief executive Alexander Nix for depicting the values the company stands for and Facebook's Mark Zuckerberg admitted the mistake.