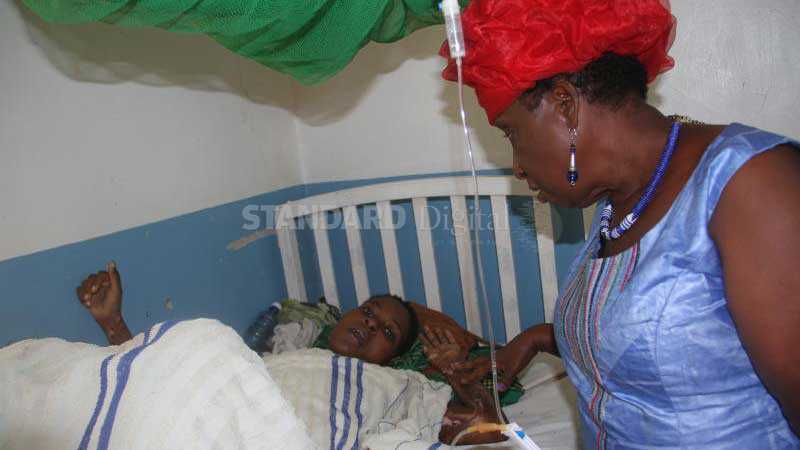 From her hospital bed at Makindu Level 4 Hospital, Benita Vata struggles to turn, carefully but painfully pushing her bedding partly away to face her visitors. With every small move, she groans in pain, her eyes cloudy and sunken. Today, she just stares blankly at her visitors, weakly responding to their greetings.
An unmistakable foul smell emanates from her, and other than the medical staff who have developed thick skin to such situations, it is difficult to bear the stench.
"This is beastly. Totally unacceptable," says Makueni Deputy Governor Adelina Mwau as she stretches her hand to assess injuries inflicted on the 29-year-old mother of two boys.
Some of those accompanying the deputy governor cannot stand the sight and run out of the room, sobbing.
But Ms Mwau, a toughened women rights crusader is determined to stay the course. Vata, who has been hospitalised for the last two weeks, is another sad case of gender-based violence inflicted on women and children that is on the rise in Makueni County.
No proper meal
She sustained about 60 per cent body burns when her husband of 11 years scalded her with boiling water. She told rescuers that her husband walked home one night late last year at Mutituni village in Machakos County and found her boiling water on a stove to prepare porridge for supper.
He demanded to know why there was no proper meal and a quarrel ensued. Before she knew it, he grabbed the flaming stove together with boiling water and flung it at her from behind. Her clothes immediately caught fire and soon she was engulfed in a ball of fire. The husband fled as her screams attracted neighbours.
She was rushed to Bishop Kioko Hospital where she was nursed for a few days and discharged due to lack of money. Thereafter she was carted away to Kibwezi town where her mother lives doing odd jobs. And that is when her ordeal started. For months, Vata was dumped at the corner of a single room where her poor relatives burnt old rags to administer ashes on her rotting wounds.
By the time the matter came to the attention of Mwau, Vata was literally rotting away, almost breathing her last. The deputy governor immediately dispatched a county ambulance to pick her.
"She had decayed and her flesh was falling off. The whole compound was permeating with an awful smell," says Mwau. Although she is recuperating, her alleged attacker roams the streets, a free man.
This harrowing account was shared over and over last week at Nthongoni market during the World International Women's day that was officiated by Mwau, where she appealed to couples to solve their differences amicably.
When she took the microphone, Mbithe Kiamba, 38, from Kikoo village in Kibwezi East left the crowd in tears after she recounted how, three years ago, she was raped while collecting firewood only for her to test HIV positive weeks later.
"I had gone to a nearby forest to fetch firewood when a strange man emerged from the thicket and grabbed me. He raped me and left," says Kiamba. When she reported the matter to her husband, she was stunned by his reaction.
"He became wild and said I had a date with my attacker. Our relationship became strenuous and he would routinely beat me up over small disagreements," she says.
When in late February he attempted to stab her with a knife, she gathered the little strength left in her and fled to her parents home at Kalamba with her four children.
The same fate befell Beatrice Ndisii, a mother of three who, like Kiamba, was also raped and infected with HIV two years ago. Although her husband does not assault her physically, he continues to torture her emotionally.
"The incident turned my life upside down; I am now dependent on drugs," says Ndisii.
Over the last few years, Makueni County has witnessed a surge in gender-based-violence, especially rape and physical assault meted out on women and defilement of both male and female children.
The worst affected Sub-county is Kibwezi East, where women blame vice on proliferation of bars dealing in second generation alcohol and a cheap brand of khat locally known as mukuka, which have turned a whole generation of productive men into impotent zombies.
"When these men cannot function properly to satisfy their wives, they turn violent," says Mariana Muia, whose husband of 21 years recently kicked her out of their main house.
What is worse is that the victims hardly receive any help from the police. "They often demand for fuel money from victims to go and arrest the perpetrators. you can tell they are clearly disinterested in pursuing the cases, so we are forced to give up and suffer in silence," says Muia.