Police plan to charge businessman Jimi Wanjigi's father, summon him to Nyeri court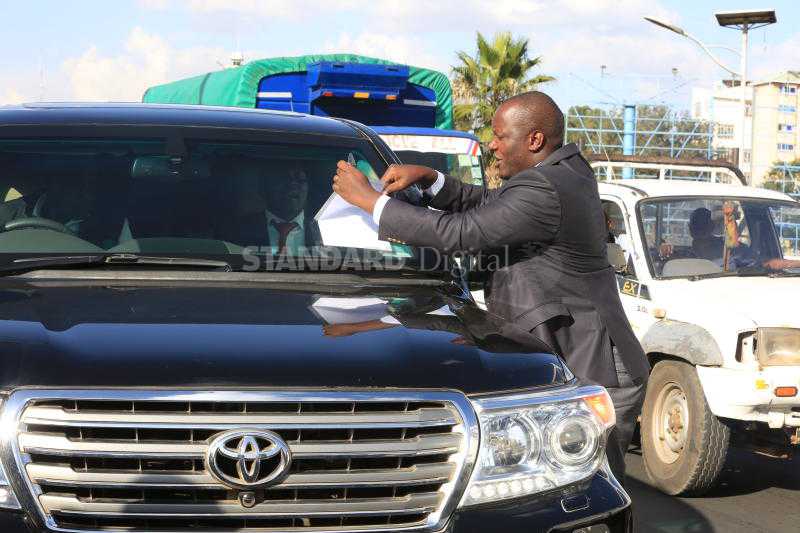 Police have now turned their guns on the father of businessman Jimi Wanjigi and plan to charge him with a gun related offence.
They have summoned the former Cabinet minister James Maina Wanjigi, 86 to appear in Nyeri court on Monday, March 5 to face charges of failing to keep safe his weapon.
Wanjigi Senior is a licensed gun holder and says he has possessed the weapon for more than 50 years.
Two police inspectors visited his Karen home on Saturday afternoon and served him court summonses showing he is wanted to appear in court.
"Your attendance is necessary to appear in Chief Magistrate Court at Nyeri to take plea in a criminal case number 253 of 2018 on a charge of failing to keep safe custody of a firearm as read with Firearms Act," read part of the summonses.
The stamped copy of the court summonses was issued on March 1.
The weapon was among those that were seized from Jimi's house in Muthaiga last year in a police siege. Wanjigi senior was present when police took it.
He said he had come with the weapon and decided to keep it in the bedroom he spent in his son's house.
"How can they say I failed to keep the weapon when they took it from my bedroom? I was present when they took the weapon. This is crazy", he said.
Police had laid a siege in the house during which they took away five weapons, all licensed from the premise.
The summonses were issued on the day Jimi was supposed to appear before the same court over the same gun charges.
Jimi had been served with the summonses by heavily armed police officers along Wangari Maathai Road on Wednesday.
The officers mounted the summonses on the windshield of his bulletproof four-wheel drive car before leaving after a dramatic chase on city streets.