Environment PS differs with Nema on plastic bottles ban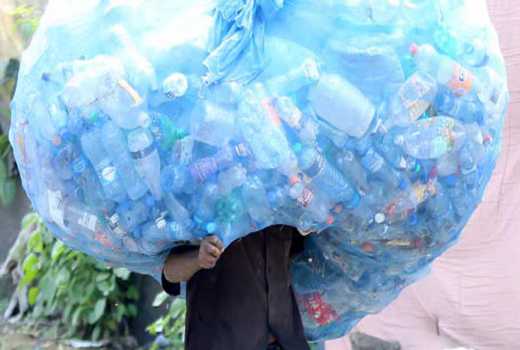 The Environment ministry has clashed with one of its agencies on plans to ban the use and manufacture of plastic bottles.
Figures from Nema indicate that 50 million bottles are used in Kenya annually, creating monumental environmental challenge.
Last week, the National Environment Management Authority (Nema) board chairman, John Konchellah, announced that the agency was drafting a gazette notice that would see plastic bottles ban effected by April 30.
No plans
But the agency has now been overruled by its parent ministry which has announced that there are no immediate plans to ban plastic bottles.
Environment Principal Secretary Charles Sunkuli averred that plastic bottle manufacturers would simply be encouraged to develop plans to recycle the bottles.
"The Government has no plans whatsoever to ban the manufacture and use of plastic bottles. What we intend to ban are plastic straws," said Mr Sunkuli.
Sunkuli was speaking on the sidelines of a ceremony to launch a project that will see giant electronics manufacturer Samsung distribute 12,000 ethanol stoves to refugees in Kakuma camp.
The PS also denied claims by Nema Managing Director Geoffrey Wahungu that cross-border cartels were smuggling plastic bags into the country and selling them in the black market.
"We have not received any reports that some criminal business people are smuggling plastic bags into the country, but we are conducting our own surveillance. We will take action when we get a report," said Sunkuli.
The Government effected a ban on use, manufacture or importation of plastic bags on August 28 last year, after a six-month compliance window announced on February 28.
Prof Wahungu had blamed the black market for the existence of the bags long after their ban and accused market officials of assisting traders smuggle them from neighbouring countries.
Wahungu had named City Park, Gikomba, Lower Kabete and Mlolongo as some of the markets resisting the plastics ban, saying trade in the bags thrived in western Kenya and parts of Lunga Lunga.
To fight drought, involve communities
According to the latest information from the Meteorological Department, rainfall will be poorly distributed in April, May and June, and this will have a serious impact on agriculture