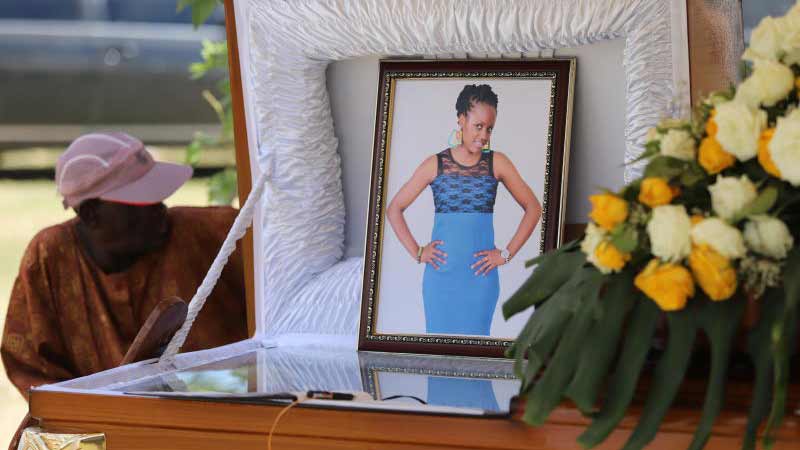 On May 24, Josephine Nasimiyu posted a disturbing message on her Facebook page that got her family really worried.
They wondered whether she had a premonition of her death.
Nasimiyu's husband David Okello received a call from his sister who questioned why he had allowed his wife to post the message on a public platform.
He quickly went to Facebook and was shocked by what he read.
"When I die, please this goes to my friends and family, don't let me stay in the mortuary for long, it is cold, quiet and lonely. Kindly tell the mortuary attendant to make me look beautiful. Tell them to do makeup to uplift my pale and sunken cold skin, to lighten me up, since I can't do it myself," read the post in part.
It went on: "Please, dress me in a simple dress; I want to look beautiful on my sendoff. I don't want to be scary, that people will be afraid to view my lifeless body. I want people to look at me and smile for the memories we had are still fresh. #Dea thIsInnevitable."
When Mr Okello asked his wife about the post, she brushed him off saying death was inevitable.
"I know that in the African tradition, it is not right to speak about one's death, so I also tried to convince her to delete the post, but I learnt that my wife was a strong member of the debating club back at her St Cecilia Misikhu Girls Schol, and I rarely win a battle with her, so I lazily gave in to her position," he said.
Later, he said his wife began to behave strangely.
Nasimiyu made peace with friends and family members and at one point pushed the husband to take him back to their home in Kawahungu village, Gem Rae, Nyakach, Kisumu County.
And the premonition came to pass six months later on December 9, when Nasimiyu, 24, was involved in a road accident in Bangladesh, Nairobi, on her way to their Rongai home, from work. She died a week later at Nairobi Women's Hospital while receiving treatment.
Reality dawned on Okello when his wife succumbed to her injuries on December 18.
Yesterday, during the burial, he revisited the conditions his wife told him to meet in case she dies before him.
"I do not want to call it a premonition. I want to believe this could just be a coincident," he said.
Nasimiyu demanded that her husband should never remarry.
"She insisted that if I have to remarry, then I have to release our two-year-old daughter to stay with her aunts or my parents, as she never wanted her child to be under the care of a step mother," said Okello.
He narrated how he battled to meet all the conditions his wife had laid out.
"I am sorry that I have since failed in meeting one condition; that of not letting her overstay in the mortuary. But this happened because of the huge hospital and mortuary bills which we had to source from friends and well-wishers, as well as the burial expenses," said Okello adding that he however ensured that she wore makeup as she wished.
"Her dreadlocks had to be shaved off during the postmortem, but her friend made a dreadlock wig for her. Another friend also did the makeup."
Okello ended his first six-year marriage in 2013 following disagreements with the wife after she failed to get a baby.
He met Nasimiyu in 2014 and they were blessed with one baby.
Okello said his wife had just landed a three-month job in Hongkong, and they were processing their travel documents for the January trip.
"She was a very lovely person who was always there for me. I think I just want to concentrate on our baby and bring her up the way the mum desired," he said.
Nasimiyu's brother, Dickson Wakwabubi, said they were shocked by her Facebook post.
"I only got to know about the post after she died, and I asked the husband how their relation was when my sister made such a post, but he assured that all was well," he said.