140 new drought-resistant seeds unveiled to address food insecurity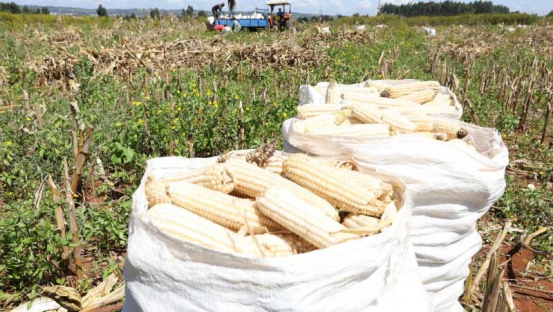 The Kenya Plant Health Inspectorate (Kephis) has released 140 new drought-resistant and fast-maturing seed varieties into the market.
Kephis Managing Director Esther Kimani said the new variety of seeds would help to address food insecurity, especially in arid and semi-arid areas.
"These varieties are drought-tolerant and early-maturing, and superior to the ones currently in the market," said Dr Kimani.
The new varieties of seeds released included maize, beans, sunflower, sorghum and potatoes, and four others that are tolerant to the maize Lethal Necrosis Disease.
Meanwhile, Kenya's agricultural exports to European markets are set to increase following the completion of a Sh250 million laboratory complex that will ensure produce meets international standards.
The facility unveiled on Wednesday will ensure that fertiliser, seeds, soils and water are tested before farmers use them.
The laboratory will also ensure healthy plants, safe trade and a sustainable agro-environment for the development of the agricultural sector.
Opening the laboratory complex built jointly by Kephis and the European Union (EU), Deputy President William Ruto said the project was a milestone in the development of the agricultural sector.
He said the laboratory was ready at a time when there was increasing public demand for high quality and safe food worldwide.
Laboratory complex
Mr Ruto said the laboratory complex would ensure that the country had good quality seeds, fertiliser as well as tested water and soils that could facilitate improved food productivity for domestic and commercial purposes.
Addressing Kephis workers at their Karen offices after opening the laboratory complex, the DP said the project would lead to increased exports to the European markets among other areas on the globe.
He said the laboratory would also test GMO-related foods and relieve Kenyans of the fear of the increase of such foods in the country.
He asked exporters and farmers to make use of the facility to access new markets for their produce for export.
"The Government will continue to initiate reforms in the agricultural sector, especially in the fields of agro-processing, value addition and manufacturing, as the only way to increase the export of finished products," he said.
EU Delegation Head of Development and Co-operation Hubert Perr praised the strong ties between Kenya and European countries, saying this had greatly helped the former to meet international requirements in various fields.
Is heading the ball harmful?
An English study into whether heading a football can cause brain trauma will begin in January, investigating an issue that has been widely debated since the activity was blamed for contributing to a former star striker's dementia.