Three shot dead by police during anti-election protests in NASA stronghold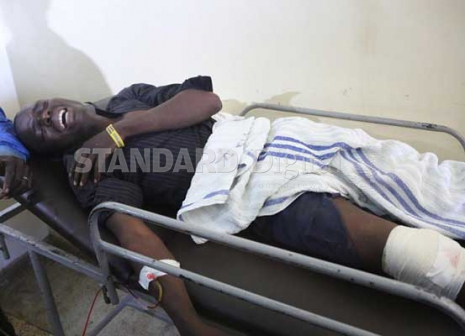 At least three people were on Thursday killed in protests against the repeat presidential election in Kisumu, Homa Bay, and Machakos counties.
More than 20 others, including four with gunshot wounds, were admitted to hospital.
The deaths were reported in Mamboleo, Suba, and Athi River. Police said the toll may increase as some of those wounded had life-threatening injuries.
Inspector General of Police Joseph Boinnet denied that police were using excessive force to manage groups of youths attempting to disrupt the election.
He was speaking to journalists after he cast his vote at Makadara Primary School in Lang'ata constituency, Nairobi County.
"We don't use excessive force. We respond to the breaking of law and order. In every instance, our response has been proportionate," he said.
In Athi River, Machakos, a Form Four student was killed and another wounded in the chaos.
Witnesses and police said the student died at the Mutonguni Hospital in Athi River, where the other victims were admitted.
According to witnesses the student was going home from a nearby shop when he was shot in the chest.
"The young man was shot by the officers who were dispersing a group of youths who had gathered around the Makadara-Athi-River centre. The police tried to disperse them and that's when a confrontation erupted, leading to the killing of the student," said a witness.
John Mutua and Mildred Londenyi were also shot and seriously injured in the same area.
"I was crossing the road heading to my house when the police shot in the air twice as they tried to disperse the youths who were protesting the killing of the student. The police shot again, this time aiming at the group. That's when I was hit by a bullet," said Mr Mutua.
Hanging clothes
Londenyi was shot as she did her daily chores on the balcony of her apartment.
"I was hanging clothes on the balcony when a bullet hit me in the leg. The doctors have managed to remove it, though I am in great pain. The police are to blame for all these incidents. We were all very peaceful and those who wanted vote went to the stations peacefuly. We wonder why they shot innocent people," she said.
At least 25 people are said to have been injured in Kisumu and Homa Bay. Of these, 18 were treated at Jaramogi Oginga Teaching and Referral Hospital (JOOTRH). Five had gunshot wounds. The dead man was said to have been shot by police in Kondele.
In Homa Bay, seven people were rushed to Homa Bay County Referral Hospital.
In Kisumu, some of the injured were victims of attacks by members of a gang that took advantage of the demonstrations to assault residents.
Two people were shot in Mamboleo where police and National Youth Service officers were accused of breaking into houses and businesses and stealing property.
There were also claims of police brutality in Obunga, Manyatta, and Nyalenda where several people, including women and children, were injured.
A nursing officer at the JOOTRH casualty department, Henry Ondieki, said the hospital was still receiving casualties even by yesterday evening.
Among those who have been admitted to the hospital is a man who suffered two gunshot wounds.
Mohamed Juma was shot in the buttocks on Wednesday, only days after another bullet brushed his shoulder, leaving a deep wound.
He said that he was shot in Kondele while in the company of his friends. "I must admit that I am very lucky. On Monday last week, I also sustained a gunshot wound even though I was not demonstrating," said Juma.
[Story by Cyrus Ombati, Harold Odhiambo, Kevin Omolo and James Omoro]