Jubilee MPs accuse NASA leaders of trying to obstruct police from doing their job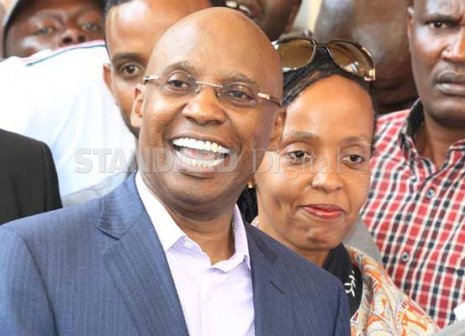 Billionaire businessman Jimi Wanjigi has accused the State of persecuting him for falling out with President Uhuru Kenyatta.
Mr Wanjigi, who spoke after emerging from hiding, faulted the Government following a 72-hour siege on his high-end home in Muthaiga, Nairobi.
The three-day lockdown by officers from the paramilitary General Service Unit, Directorate of Criminal Investigation, Flying Squad and Special Crimes Prevention Unit ended Wednesday morning when the security agents withdrew.
Police conducted raids on Wanjigi's properties; house number 44 in Muthaiga, Kwacha House in Westlands, Nairobi and Caramel Club in ABC Place, also in Westlands.
They claimed they were looking for firearms and ammunition.
Wednesday, Wanjigi, who was flanked by opposition leader Raila Odinga, claimed he was being persecuted for disagreeing with President Kenyatta and his deputy William Ruto.
"This is an absolute persecution being perpetuated by the police on an innocent Kenyan. It is harassment by the State," said Wanjigi, adding he would continue to support Raila's bid.
The raids started at dawn on Monday at a villa in Malindi where police claimed they recovered five guns.
Authorities claimed the Malindi house was Wanjigi's and they had extended the search to his Nairobi properties. But the businessman denied the claims.
Also present at Wanjigi's briefing was his wife Irene, his parents and other NASA leaders.
"I'm innocent and I'm being persecuted by the State. If it was not for Baba (Mr Odinga), I do not know where some of my family members would be by now. He came at the right time and stopped them in their tracks," said an emotional Wanjigi.
Raila spent Tuesday night at Wanjigi's home and condemned the siege.
The officers left the home about 7 am, long after they had been served with a court order barring their activities.
By then, a group of NASA supporters had arrived outside Wanjigi's compound after learning Raila spent the night there.
Wanjigi said the firearms found at his Muthaiga home were legally held for his protection.
"They claimed they found weapons in other houses in other parts of the country. It's amazing because I don't know them," he said.
Lawyers rushed
Wanjigi was a wanted man until his lawyers rushed to court on Tuesday and secured an anticipatory bail barring police from arresting him.
This was after the police seized five AK47 rifles with 93 bullets in a house in Malindi. Wanjigi denied he owns the house.
After this, dozens of police officers moved to Wanjigi's Nairobi home and barricaded it, seeking to arrest him.
And when the officers failed to get him, they rushed to court and obtained a search warrant. They broke the main door and into other compartments in search of 'guns'.
Wanjigi said the officers assaulted his wife as she took videos of their activities inside the house.
"They desecrated my house because of my support for Baba. I have struggled to build this house and even Uhuru Kenyatta knows that. He has been here and met my family," he said.
He termed as personal assault the siege at the house, even after the officers had been served with a court order.
"Everyone has a right to make a political choice. Kenyans must be allowed freedom to choose whoever they want as their president," Wanjigi said.
This came as four Jubilee MPs accused Raila of attempts to obstruct the police from investigating the businessman.
The MPs, who included Nyeri Town's Ngunjiri Wambugu told NASA leaders to stop painting what looks like clear criminal conduct as political harassment.
Wambugu and his colleagues Catherine Waruguru (Laikipia County), James Gichuhi (Tetu) and Faith Gitau (Nyandarua County) said the police should be left to do their work without interference.
"What is so important to NASA and Jimi Wanjigi that the Opposition leader actually slept at the businessman's fortified house to stop the police from getting access to it? Why does Mr Wanjigi have so many weapons, including military grade rifles?" Wambugu said.
Wanjigi also termed the attack an aggression against his ageing father, former assistant minister Maina Wanjigi, who was present during the raid. He said the raid was stage-managed. More than 40 officers were involved in the operation.
Raila arrived at the home on Tuesday night after lawyer James Orengo, who had secured an order from the court stopping the operation, was denied entry by armed GSU personnel.
Raila said the officers initially prevented him from leaving the house claiming they were acting on orders from above.
Under beds
Raila said he found police officers under beds conducting the search when he arrived. The police had told a Nairobi court they were going to look for guns, ammunition and explosives.
They went to City Hall and obtained original drawings of the house to know how many rooms it has. There were rumours the house has a bunker but Wanjigi denied it.
After the search at Wanjigi's Muthaiga home, police said they found an M4 — a military-grade rifle — five pistols and a shotgun. The officers said they were also looking for documents with information on importation and use of the weapons.
But Wanjigi said the weapons were all licensed. "My wife could not stop crying but baba came at the right time to ensure we are fine," said Wanjigi.
Raila said the officers told him the house was a scene of crime following the discovery of the weapons. However, the officers could not comment on the fact the guns are all licensed.
"What took place at the house was wanton destruction of private property. Orengo will move to court and file a case against Inspector General of Police Joseph Boinnet for contempt," Raila said.
Police insist they are investigating ownership of a rifle they termed as illegally owned. The case is set to be mentioned today in court.
Wanjigi has lived a very quiet life despite his business prowess.
Before May 6, 2016, the morning after controversial businessman Jacob Juma was shot dead, little was known about him and the raid on his house had opened up his life more to the public.
In 2013, he supported President Kenyatta and Ruto. He shifted to NASA this year, a decision that did not go down well with the Jubilee camp.
Known as James Bond to his friends and enemies, Wanjigi has a carefully managed and almost non-existent public profile. He was born in 1962 and his father was a senior civil servant.
Meanwhile, the Jubilee MPs, in a statement, maintained the police must be allowed to do their work.
"Anybody who break laws, no matter their status in society, whether billionaire businessmen, prominent politicians, charismatic leaders or jobless peasants, must be held to account for any acts of criminality," they said.
Deal firmly
The MPs said no one should be allowed to assume he was above the law and called on the Government to deal firmly with NASA leader over what they termed obstructing justice.
The accused opposition chiefs of threatening and intimidating police officers and trying to stop them from executing a search warrant at Wanjigi's home.
"It is improper for NASA politicians to viciously attack the police who were performing their duties in enforcing a search warrant against Mr Wanjigi. The Opposition should not be allowed to promote their illegal acts and lawlessness."