Francis Atwoli clarifies that dialogue does not mean power sharing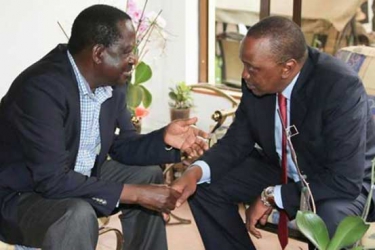 NAIROBI, KENYA: Central Organisation of Trade Unions (COTU) is proposing a list of ten prominent Kenyans to reach out to President Uhuru and Raila Odinga in ending political confusion in the country.
Cotu's Francis Atwoli said the two leaders have good intention for the country but their handlers keep on driving a wedge between them.
"Uhuru and Raila mean well for our country, their handlers have different agenda leading to our current situation, we are proposing a list of prominent Kenyans to reach out to Nasa and Jubilee in ending the current political impasse," said Atwoli during a press briefing.
Atwoli said Cotu will help Yusuf Haji, Amos Wako, Jamleck Kamau, Oburu Odinga, Abraham Kiptanui, Hassan Ole Kamwaro, Sajjad, Zipporah Kittony, Philip Masinde, David Musila, and Phoebe Asiyo reach out to the two parties and their top leaders.
In his remarks, the Cotu Secretary General clarified that dialogue should not only mean power sharing but a solution in the best interest of Kenya.
Following Raila's Tuesday move to step aside from presidential repeat election set for October 26, political uncertainty has engulfed the country affecting different parts of the economy.
On Wednesday, investors lost Sh15 billion in paper wealth, with capitalisation standing at Sh2.34 trillion by close of trading at Nairobi Securities Exchange (NSE). NSE's benchmark 20-share index recorded a 1.4 per cent decline by the end of trading on Wednesday as Opposition supporters took to the streets for the second time this week in their push for electoral reforms after Raila pulled out of the repeat poll on Tuesday.
In his decision to step down, the opposition leaders noted that the election may not be credible just like the August 8 exercises which was cancelled by the Supreme Court of Kenya. He also said the Independent and Electoral Boundaries Commission has not met a list of demands Nasa proposed before the October poll.
The electoral body has however insisted that the election shall be conducted on the set date.
Atwoli said businesses are hurting from the standoff more so in the sectors such as energy, health, education, and agricultural.
"Dialogue is not for sharing power and should not scare the two camps. It should be for the bigger picture of Kenya."