Jubilee supporters demonstrate outside Supreme Court
Jubilee supporters demonstrate outside the Supreme Court following petition filed against Deputy Chief Justice Philomena Mwilu and Judge Isaac Lenaola.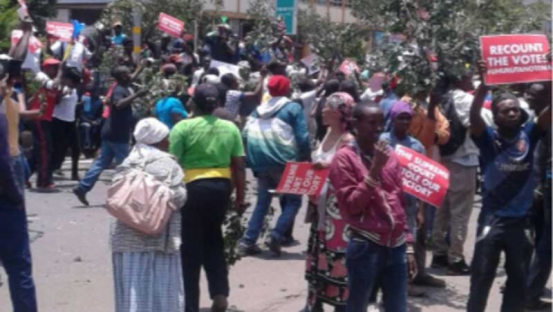 The petition filed by the Executive Director of Angaza Empowerment Network Derrick Malika Ngumu is accusing the judges of being in contact with lawyers representing petitioner, Raila Odinga during the hearing of case challenging President Uhuru Kenyatta's win in the August 8 election.
The demonstrators have demanded audience with Chief Justice David Maraga over the matter.
The petitioner is accusing the two judges of gross misconduct and breach of judicial code of conduct. He asks Judicial Service Commission (JSC) to remove them from office from office.
The protestors want Uhuru declared President.
This comes days after Nyeri Town Member of Parliament Ngunjiri Wambugu filed a petition seeking removal of Chief Justice Maraga from office Thursday last week.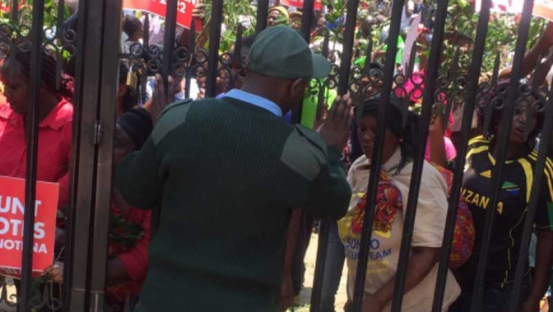 Ngunjiri accused Maraga of executing a judicial coup by annulling the presidential election and exerting undue influence on the other Supreme Court Judges who ruled that the August 8 presidential election was null and void.
Jubilee Secretary General Raphael Tuju and National Assembly Majority leader Aden Duale disowned the petition against Maraga and asked MP Ngunjiri to withdraw it.
Last week Friday President Uhuru asked Nyeri Town MP Ngunjiri Wambugu to withdraw the petition saying the focus must be campaigns for his re-election in the Oct 17 re-run.
He said he appreciated Wambugu's pain at the decisions taken by the Supreme Court.
The Supreme Court delivers the full verdict September 20 a day after the protests.
Hours after the court annulled the presidential election on September 1, President Uhuru agreed with the ruling but specified he didn't agree with it. Later at a rally in Nairobi, he called the Judges "wakora" (crooks) arguing that four individuals had no right to subvert the sovereign will of Kenyans.
[Four judges, Chief Justice David Maraga, his deputy Philomena Mwilu, Justice Isaac Lenaola and Smokin Wanjala upheld the petition to quash the poll. Justice Jackton Ojwang and Njoki Ndung'u dissented. Justice Mohamed Ibrahim was taken ill during the hearing and therefore didn't deliver a judgement].