Fire razes St George's Girls Secondary School kitchen
A section of the kitchen at St George's Girls Secondary School in Nairobi was Saturday night razed down by a fire that broke out at 10pm.
No casualties were reported as police and firefighters contained the inferno before it could spread. The cause of the fire was not immediately established.
In a press release, the school management assured members of the public and parents that the fire was under control.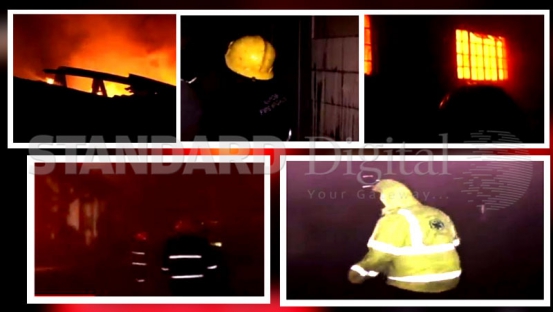 "It is unfortunate that fire incident has been experienced at St. George's Girls High School, kitchen. So far no injuries and the cause of fire not known. Emergency Responders including the Nairobi City County Fire Fighters are fighting it and it is under control. Members of the public are advised to keep off and allow The Emergency Responders to deal with the Incident, "read a press release from the school.
Police said they were investigating the cause of the fire.
This comes just a week after another fire claimed the lives of 9 students at Moi Girls Secondary School in Nairobi when their dormitory went up in flames at 3am on September 2.
Blogger arrested over hate speech allegations
A blogger by the name Oliver Nyabwazi Moraira aka Kabz Nyar from Kisii County is being held at Langata Women's Prison from Friday after she was arrested over hate speech allegations.