President Uhuru vows to 'fix' Supreme Court after election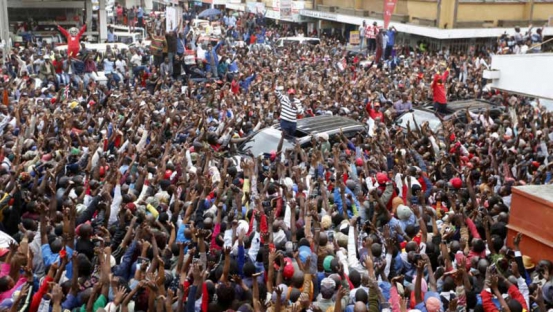 President Uhuru Kenyatta criticised the Supreme Court on Saturday questioning the grounds on which the nullification of the presidential election was determined.
The President threatened to 'deal with' the Judiciary should he be re-elected in 60 days.
"Even if you are so stupid, ask yourself something: The people elected an MCA, results were transmitted, and no one asked questions. Those of MPs and senators were transmitted, and no one asked questions and they have been sworn in."
"Those of governors were transmitted, no one asked questions. Now how do four people and wake up and say there was a technicality in the transmission of the results of the president only? How?" asked Kenyatta.
The President was emphatic on Saturday that his victory had been unfairly invalidated. He appeared infuriated by the Supreme Court decision and said as much.
"It is impossible for three or four people to invalidate the will of 15 million Kenyans who voted. Haiwezekani (impossible). We have, however, respected that decision in as much as we don't agree with it. We respect it but I can assure you we shall revisit this matter," he declared.
Speaking at State House Nairobi during a meeting with Jubilee governors and MCAs, the President would pause from time to time as he spoke and at one moment, said although he is a peaceful person, he is not a Bishop, neither is he a coward.
"We are law abiding people and want peace but that should not be misconstrued to mean we are fools or cowards. To say that I am peaceful doesn't mean that I am a Bishop," he said.
The Head of State announced that his second round of campaigns had officially kicked off following the nullification of his victory as declared by Independent Elections and Boundaries Commission (IEBC) three weeks ago.
Shortly after the meeting, the President and his deputy left for rallies in Nakuru and Narok.
The President and his deputy William Ruto said the campaign machinery is well oiled and they are prepared to go back to the people and prove that they won fairly during the August 8 election. "We won fair and square. We got 800 elected MCAs (56 per cent) out of 1,400, 27 Senators (58 per cent), 169 MPs (59 per cent), 29 governors (62 per cent), 31 women reps (66 per cent)," the DP said.
President Kenyatta criticised NASA leader Raila Odinga saying he had lost the recent election and was banking on a coalition government arrangement.
"What we want is the supreme will of the people of Kenya to prevail. And as I have said before, the Opposition are not interested in the election but a back door route for a nusu mkate (coalition) Government. There is no nusu mkate for them, even a slice they won't get. If they want let them win elections." Speaking in Nakuru, Kenyatta and Ruto accused NASA of colluding with the Supreme Court Judges to nullify and order repeat of presidential elections.
"They went and planned with their people in court thinking we will fear them, and today we telling them we fear God alone and the decision of the people of Kenya," said President Uhuru.
The President said the most important people in Kenya are not Maraga and his people but the people of Kenya who are supreme and not the courts.
"Raila should know that it is not the court that is supreme, the most important person in Kenya is not Maraga and his five people but the people themselves who are supreme," added Uhuru.
President Kenyatta accused Raila of deliberately intimidating IEBC to trigger a crisis.
President Kenyatta told the Opposition to forget about disbanding the IEBC which will conduct the fresh polls ordered by the Supreme Court.
Shortly after the State House meeting, leaders from western Kenya held a meeting at Osnet Gardens in Lavington, Nairobi to discuss plans for the President's campaigns.
The meeting, convened by Water Minister Eugene Wamalwa, was attended by Paul Otuoma, Ababu Namwamba, Chris Okemo, Senate speaker Ken Lusaka, Benjamin Washiali, Emmanuel Wangwe, Dan Wanyama, Didmus Barasa and Mwambu Mabonga.