Judges do away with dress code set by Dr Mutunga as pre-trial conference kicks off
COUNTIES
By Luke Anami | Aug 26th 2017 | 2 min read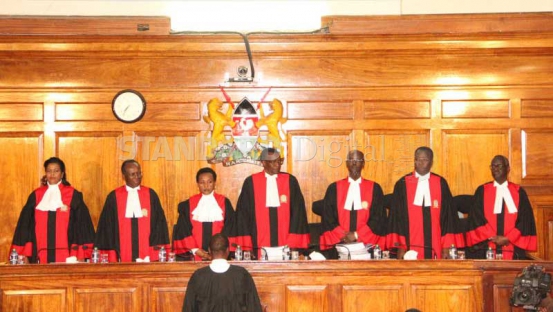 As is the tradition of the Supreme Court set by retired Chief Justice Dr Willy Mutunga, the Supreme Court judges led by CJ and President of the Supreme Court David Maraga were fully robed in red quite different from the green that was used in 2013 presidential petition.
The green colour dress code that Dr Mutunga wore with the other five judges was criticised by the public hence the new dress code.
However, the Supreme Court judges were not wigged when they entered the court at exactly 7.35 pm local time.
The lawyers, on the other hand, wore long black robes. The dress code is not merely a status symbol, but brings out discipline among lawyers in the fight for justice.
The dress code also differentiates the lawyers from other professionals.
The Supreme Court judges are CJ Maraga, DCJ Philomena Mwilu, Justices Jacton Ojwang, Smokin Wanjala, Njoki Ndungu, Mohamed Ibrahim and Isaac Lenaola.
The CJ welcomed all the parties to the packed courtroom whose sitting capacity is 50 persons. "I welcome you all to the Supreme Court. In the gallery we have judges from other jurisdiction who have come to be with us. I also want to welcome counsel. Lead counsel will introduce each team," said Maraga.
He ordered for more chairs for counsels who were standing before welcoming senior counsel James Orengo to introduce petitioner Raila Odinga's team.
"You will forgive us the courtroom is small. I want more chairs to be brought so that counsel can sit."
Lawyers for various parties began trooping in to the Supreme Court at 6.30 pm. Among the first to arrive was the Attorney General Githu Muigai who is seeking to be enjoined as amicus curiae (friend of the court).
Senior Counsel Paul Muite was second followed closely Abdullahi Ahmednassir in the company of Katwa Kigen and Kithure Kindiki.
Orengo arrived at 6.40pm followed by former AG Amos Wako.
The lawyers were robed in black and white shirts with flaps as prescribed by Law Society of Kenya Revised Dress Code (2013) prepared by the LSK Council.